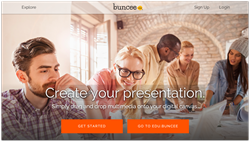 Our success would not have been possible without the guidance and support of Accelerate Long Island and Stony Brook University. - Marie Arturi, Founder and CEO of Buncee
Calverton, New York (PRWEB) March 31, 2015
buncee® was named one of Long Island's 14 hottest startups in the Accelerate Long Island report Long Island Technology Startups. On March 24, 2015, the author of the report, John L. Kominicki, presented his findings and honored the 14 chosen companies at Accelerate Long Island's IdeaCamp. The event, hosted at LaunchPad Long Island in Huntington, also held a Q&A panel which included buncee Founder and CEO Marie Arturi, Work Market Co-Founder and Board Member Jeffrey Leventhal, Nomorobo CEO Aaron Foss, ThermoLift President and CEO Paul Schwartz, and Traverse Biosciences Founder Joseph Scaduto.
Accelerate Long Island Executive Director Mark Lesko said, "buncee is one of Long Island's hottest startups and I congratulate Marie Arturi and her enthusiastic and dedicated team. buncee's social and educational applications are user-friendly, creative, and have tremendous potential. I look forward to buncee's continued success on Long Island."
Commenting on the honor, buncee CEO Marie Arturi responded, "We are beyond thrilled to be chosen as one of Long Island's 14 hottest startups. Our success would not have been possible without the guidance and support of Accelerate Long Island and Stony Brook University. It is an honor to be named among such innovative companies and talented entrepreneurs." Designed for use at school, at home, and at work, buncee's easy-to-use web and mobile tools enable users to drag and drop media including photos, videos, audio recordings, and more onto a digital canvas to create beautiful, personalized content. Completed buncees can easily be shared online via social media and email or offline in print.
In addition to highlighting the top startups, the Accelerate Long Island report surveyed the current and future climate of the technology industry on Long Island, including input from 195 companies. Mr. Kominicki's report reveals key factors spurring local entrepreneurship and innovation including state programs such as Hot Spots that provide benefits to companies working in off-campus incubators, and increased investment in entrepreneurship by top research and academic institutions such as Stony Brook University and Hofstra University.
Director of the Stony Brook University Incubator at Calverton, Monique Gablenz, states, "Stony Brook University is proud to play a part in growing the Long Island Technology community and to have a role in the success of the innovative companies at its incubators, of which buncee certainly is one. I am personally thrilled that buncee received this well-deserved recognition as the level of accomplishment of Marie and her staff would not be possible without their demonstrated talent, hard work, and determination."
Long Island's 14 hottest startups are ASOthera Pharmaceuticals, buncee, Certerra, Coferon, CooCoo, DepYmed, eGifter, Mirimus, Nomorobo, Sweigh, Sulfcrete, ThermoLift, Traverse Biosciences, and Work Market.
About buncee:
buncee® simplifies online content creation with its digital canvas and easy-to-use tools. Whether teachers are flipping lessons, students are crafting digital stories, parents are designing holiday greetings, or teams are crafting interactive marketing brochures, creating engaging original content on buncee.com and edu.buncee.com is simple and fun. At school, at home, or even at work, buncee makes it easy for even the most 'nontechnical' users to create interactive multi-media creations that can be shared with customizable privacy settings. For more information, visit: http://www.buncee.com or http://www.edu.buncee.com.