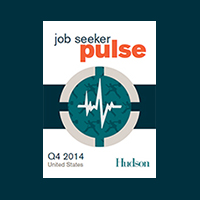 "Job Seeker Pulse is the newest addition to Hudson's arsenal of analytics as a service, which will enable organizations to develop and optimize their sustainable workforce strategies." - Lori Hock, CEO of Hudson Americas
New York, NY (PRWEB) March 26, 2015
Among Gen Y, Gen X and Baby Boomers, which generation searches for jobs most frequently? Which generation of Middle Managers is most likely to stay in their current positions? And what do Gen X Upper Management and Baby Boomer Middle Managers have in common?
Answers to these questions are among the findings of the inaugural Job Seeker Pulse, published by Hudson Global, Inc. (Nasdaq: HSON). Job Seeker Pulse is the only report of its kind to track and compare actual online job seeking behaviors of generational workers including Generation Y, Generation X and Baby Boomers. In the first edition of the quarterly periodical, Hudson tracked real-time job seeking activities of nearly 8,000 U.S.-based Fortune 100 generational employees and compared Q4 2014 job seeking activity levels by generation and seniority level.
According to Lori Hock, CEO of Hudson Americas, "Job Seeker Pulse is the newest addition to Hudson's arsenal of analytics as a service, which will enable organizations to develop and optimize their sustainable workforce strategies."
Hudson licenses Joberate technology (joberate.com), which tracks thousands of publicly available data sources including social media, public job boards and authorized data service providers to monitor changes in job seeking behavior patterns of the global workforce. Joberate technology generates a single metric for each individual called a J-Score, which ranges from 4-70, with a score of "4" indicating the lowest level of job seeking behavior and a score of "70" indicating the highest.
Key Findings

During the reporting period, 94.8% of all study participants were situated within the lowest J-Score range. Actual activity levels indicated a lower level of online job-seeking behavior despite popular industry sentiment survey results, which in some instances report that as many as 50% of workers, or more, are actively or passively seeking new employment.
Among people whose job seeking behaviors were tracked during the reporting period, the results are most striking when parsed by generation and by seniority level combined.
At any given time during the period, the Fortune 100 Gen Y employees, regardless of rank, were more likely to seek new employment when compared to the Fortune 100 Boomers or Gen Xers of any rank.
The most active job seekers within Gen X and Boomers were Gen X Middle Management (38.5% of time spent above the mean J-Score level) and Boomer Entry-Level (46.2% of time spent above the mean). These most active Gen X and Boomer groups still rated markedly lower than the Gen Y group with the least amount of job seeker activity (76.9%).
Overall, the most active groups were Gen Y Entry-Level, Associate-Level and Upper-Management who spent 100% of Q4 2014 above the mean J-Score of 10.32.
Overall, the least active job seekers were Boomer Middle-Managers and the Gen X Upper-Managers with 0.0% of time above the mean during the quarter.
"Information and analysis about job seeking behaviors that are byproducts of a survey, which captures participants' self-reported intentions or opinions, are anecdotal at best," said Joberate Co-founder and CEO Michael Beygelman. Beygelman continued, "Job Seeker Pulse is disruptive in that it challenges traditional paradigms by tracking and quantifying what people actually do, not what they say in a survey. Not all intentions or opinions purported in a survey lead to behavior, which is what the Job Seeker Pulse report unequivocally confirms when compared to other survey-based research."
Hock added, "Job Seeker Pulse is part of Hudson's commitment to provide unique and actionable insights on employee job seeking behavior to help organizations with retention, demand planning and to gain a competitive advantage in the their quest to hire top talent."
Subsequent Job Seeker Pulse reports will introduce additional employee groups by industry and by job category. They will also include behaviors of employees within middle-market companies in addition to Fortune 100s.
The report is available to reporters upon request, but also available for complimentary download at JobSeekerPulse.com.
About Hudson Global Inc.
Hudson is a global talent solutions company with expertise in recruitment process outsourcing, retained search, technology recruitment, and recruitment consulting and talent management. We help our clients transform their organizations by leveraging our expertise, deep industry and market knowledge, and assessment tools and techniques. Operating in 20 countries through relationships with millions of specialized professionals, we bring an unparalleled ability to match talent with opportunities by assessing, recruiting, developing and engaging the best and brightest people for our clients. We combine broad geographic presence; world-class talent solutions and a tailored, consultative approach to help businesses and professionals achieve higher performance and outstanding results. More information is available at http://us.hudson.com
###