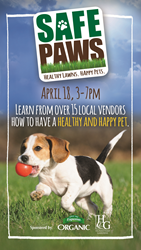 We're taking the lead to help pet owners learn how to have a safe outdoor environment for their pets.
Millville, NJ (PRWEB) March 31, 2015
Dog owners with their pets in tow are invited to learn about a new outdoor pet safety initiative Saturday, April 18 at Homestead Gardens. Wagging tails will enjoy the first-ever Safe Paws event at the garden center from 3 p.m. to 7 p.m.
Safe Paws, sponsored in partnership with Espoma and Homestead Gardens, will include on-site adoptions, a Safe Paws photo booth and professional advice from Espoma, Dr. Zaun Kligge, Homestead Garden's plant experts and more.
Espoma's Safe Paws campaign equips responsible pet owners with tips to keep pets safe outdoors by avoiding the dangers of common lawn hazards.
"We're taking the lead to help pet owners learn how to have a safe outdoor environment for their pets," says Jeremy Brunner, vice president of Espoma.
The Environmental Protection Agency (EPA) estimates some 90 million pounds of pesticides are applied to lawns each year. It's common to see flags and signs warning people to 'keep pets and children off' lawns where chemical fertilizers and pesticides have been applied by landscaping and lawn maintenance companies. When homeowners apply these chemicals on their own, they typically won't post any flags, warning neighbors and other dogs walking nearby.
Lawn chemicals are potentially harmful to both cats and dogs that run and play in yards, neighborhoods and parks, and may be a contributing factor in the increase of cancer in pets. According to the National Canine Cancer Foundation, an alarming one out of every three dogs is diagnosed with cancer.
Brunner recommends switching to organic, pet-safe lawn foods, like the Espoma Organic annual feeding program, to grow lush, green grass. Organic lawn food keeps paws clean from harmful lawn chemicals that can easily be ingested or tracked into homes.
The event runs from 3 p.m. to 7 p.m. and will be held at Homestead Gardens in Davidsonville, MD. Stay for Tassels and Tails, a fashion show and fundraiser that benefits the SPCA of Anne Arundel County immediately following the event. Music will be provided by Mad Planet and tasty human treats and drinks by Azzure at the Annapolis Westin Hotel. All dogs in attendance must be leashed, tagged and properly vaccinated. Please call 410.798.5000 for more information.
The Espoma Company, pioneer in natural gardening solutions since 1929, recently launched Safe Paws at The Philadelphia Flower Show and received an overwhelming response.
To download the Safe Paws Guide Book, visit http://www.espoma.com.
The Espoma Company is a fourth generation, family-owned business that has been the pioneer in organic gardening since 1929. Espoma products work in harmony with nature to grow beautiful lawns & gardens, preserve natural resources, and make a greener world for future generations. Espoma offers a complete selection of natural plant foods, lawn foods, control products, and potting mixes that are available nationwide. For additional information, visit http://www.espoma.com or find them on Facebook.