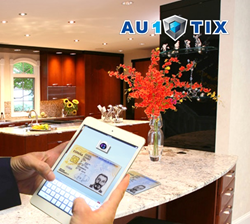 That's what we designed AU10TIX BOS for – 100% automated, integrated solution for enhancing for fraud prevention, KYC compliance, and fast-track onboarding. That is a complete solution concept.
Nicosia, Cyprus (PRWEB) March 29, 2015
"Banks are gravitating toward a new technology they think can help customers more easily open mobile accounts," says a recent article at American Banker. The author goes on specifying the way banks are using technology: "allowing customers to photograph their driver's licenses from their smartphone to help them auto-fill portions of their application" (http://www.americanbanker.com/news/bank-technology/how-id-scanning-could-boost-mobile-account-opening-1073425-1.html).
Already last summer, Radius Bank introduced a mobile banking feature that allows customers to take a photo of their driver's license and use the extracted data to fill in an account application. This month, Equifax and Zoot launched MobilityPlus, which marks a step forward: The solution features search-match analysis to help authenticate the customer's identity and determine if the device in use is associated with fraudulent activity. It can also incorporate knowledge-based identity questions and automated OFAC screening. MobilityPlus marks the imminent convergence of KYC and identity fraud prevention with customer onboarding de-frictioning.
But one critical element is missing in many of the available solutions. That is the regulations mandated authentication of customer identity using a government issued face ID. Authentication of a customer ID is still done primarily manually. Partial template matching based solutions already exist, but even most of these require manual back-office intervention for checking for image manipulations. There is only one technology existing on the market today which can carry out 3-layer authentication on customer submitted ID images, and that is AU10TIX BOS. This machine-learning enhanced next-gen technology is already in use by Fortune 500 and market leading financial services clientele. AU10TIX BOS is the standard setter for what automated Secure Customer Onboarding will look like. In a seconds-fast integrated process, BOS auto-classifies and optimizes customer submitted ID images, extracts their content and performs logical, forensic and meta authentication checks.
"It makes sense that banks and financial services providers prioritize customer experience first," says Ron Atzmon, Managing Director at AU10TIX: "But does it make sense to keep what happens next manual when you can automate the complete process? Manual back-office ID examination and processing is slow, notoriously uncertain and costly. You may have saved the customer a couple of minutes of filling in data, but you keep the customer waiting, sometimes even hours and days. That's what we designed AU10TIX BOS for – 100% automated, integrated solution for enhancing for fraud prevention, KYC compliance, and fast-track onboarding. That is a complete solution concept."
"Banks and other regulated financial services providers are fully aware that the game is changing," says Ofer Friedman, VP Marketing of AU10TIX. "Only recently did we have a comprehensive tour of major banks in the UK and Europe. We plan to do so with US banks as well. They may be slow moving ships, but their captains see the storm coming. Yet again, there is lots of battle haze out there on what's available and what works. So just to make it absolutely clear: AU10TIX BOS is the only proven next gen. solution for automating customer ID classification, authentication and conversion to workable digital records. And thanks to advanced machine learning enhanced algorithms, it delivers multi-layer authentication (instead of data integrity checks only), and extracts the content of even sub-optimal images that characterize the online and mobile space. And it does it in unmatched seconds-fast speed. If you're leading compliance or operations in a regulated financial service, you might want to at least get up to speed with what can put you in a whole different competitive position."
About AU10TIX
AU10TIX Limited, a fully owned subsidiary of ICTS International N.V, deals with the authentication and digitization of identifying documents including Passports, identity cards, driving licenses and other complementary identifying documents. The company specializes in implementing hardware & software based applications used for scanning, identifying, content retrieval, authentication and validation of identifying documents. AU10TIX is a pioneer of all-channel (front-end and online) ID authentication and processing solutions. The company's products drastically reduce identifying document-based fraud, reducing the costs associated with client processing and enabling effective regulatory compliance, while making the sales and support operations speedier and considerably more efficient.
For more information, visit http://www.au10tix.com
About ICTS International N.V.
ICTS specializes in the development and implementation of innovative security concepts and solutions designed to meet the needs of a variety of industries, mainly aviation transportation, border control and sensitive facilities. ICTS International benefits from over two decades of expertise and international operational experience in transportation security, with a particular emphasis on high-risk environments, passenger processing transactions and the integration of security services to provide a comprehensive security solution. It also offers a wide variety of customized training programs, tailored procedures and a wide range of security consulting services. The company has developed and implemented unique technological solutions, based on its comprehensive approach to security, designed to enhance the level of security while accelerating the security check process.
For more information, visit http://www.icts-int.com
This press release contains "forward-looking statements" within the meaning of the Private Securities Litigation Reform Act of 1995, regarding the Company's business strategy and future plans of operations. Forward-looking statements involve known and unknown risks and uncertainties, both general and specific to the matters discussed in this press release. These and other important factors, including those mentioned in various Securities and Exchange Commission filings made periodically by the Company, may cause the Company's actual results and performance to differ materially from the future results and performance expressed in or implied by such forward-looking statements. The forward-looking statements contained in this press release speak only as of the date hereof and the Company expressly disclaims any obligation to provide public updates, revisions or amendments to any forward-looking statements made herein to reflect changes in the Company's expectations or future events.
Contact:
AU10TIX
Ofer Friedman, VP Marketing
Email: ofer(dot)friedman(at)au10tix(dot)com
Tel.: +357 (22) 007698
ICTS International NV
Alon Raich
Email: mail(at)ictsinternational(dot)com
Tel.: +31-20-716 3421