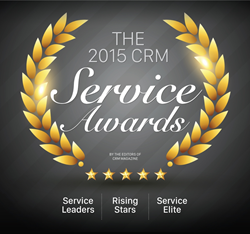 CRM magazine is happy to recognize excellence in customer service efforts in our 2015 CRM Service Awards.
Medford, N.J. (PRWEB) March 26, 2015
CRM magazine is pleased to announce the recipients of this year's CRM Service Awards in its March 2015 issue. The 12th annual CRM Service Awards honor the vendors and client companies that enhance customer service experiences through the sophisticated use of people, processes, technologies, and knowledge.
To keep track of all of these developments during the past year, the CRM Service Awards take a look at new technologies and upgrades from established and emerging industry vendors, as well as the most impressive case study deployments.
In total, 25 vendors are honored in this year's CRM Service Leader Awards across eight industry categories. Each category recognizes one Service Winner, denoting the company receiving the highest score compared with its peers; three CRM Service Leaders; and a "One to Watch." Additionally, CRM magazine honors six Rising Stars for their innovative technologies, and three customer companies with CRM Service Elite Awards for their customer service technology deployments.
The CRM Service Awards are awarded to companies that have performed at the highest level, shaping the industry and pushing it forward.
"CRM magazine is happy to recognize excellence in customer service efforts in our 2015 CRM Service Awards. This year, the industry has witnessed some impressive developments in mobile support, multichannel cloud solutions, real-time analytics, feedback management, and even cognitive computing," said David Myron, CRM magazine's editorial director.
Recipients of the CRM Service Leader Awards were determined through an extensive process and proprietary rating formula that polls industry analysts for product and functionality assessments, company direction, and customer satisfaction. Product and services costs and financial and corporate information are also factored into overall scores.
Recipients of the 2015 CRM Service Awards are listed below in their respective categories. (Leaders in each category are listed in alphabetical order):
Customer Case Management

Winner: Parature
Leaders: Kana (a Verint company, Microsoft Dynamics CRM, Salesforce.com
One to Watch: Oracle
Contact Center Infrastructure

Winner: Cisco Systems
Leaders: Aspect Software, Genesys, Interactive Intelligence
One to Watch: InContact
Interactive Voice Response

Winner: Cisco Systems
Leaders: Avaya, Interactive Intelligence, West
One to Watch: Aspect Software
Web Support

Winner: Salesforce.com Service Cloud
Leaders: Microsoft, Moxie Software, Oracle Service Cloud
One to Watch: Zendesk
Workforce Optimization

Winner: Verint Systems
Leaders: Aspect Software, Calabrio, NICE Systems
One to Watch: InContact
Contact Center Search

Winner: IBM Watson and Oracle Knowledge
Leaders: Kana (a Verint Company), Salesforce.com
One to Watch: Coveo
Enterprise Feedback Management

Winner: Madallia
Leaders: Allegiance (MaritzCX), IBM, Vovici (Verint)
One to Watch: InMoment
Contact Center Outsourcing

Winner: Teleperformance
Leaders: Convergys, Sykes Enterprises, West
One to Watch: TeleTech
CRM magazine also named six Rising Stars for the year:
Helpshift improves feedback and customer service in mobile applications.
IBM brings cognitive computing to customer support.
NewVoiceMedia builds multichannel contact centers for Salesforce.com customers.
NICE Systems innovates with real-time analytics.
WalkMe offers guided self-service for the web.
Zendesk provides small enterprises with the tools they need to grow.
This year, three customer companies won CRM's Service Elite award for their customer service technology deployments:
Canadian Cancer Society in Saskatchewan deployed NewVoiceMedia's technology to help fundraising efforts.
Kohl's implemented Oracle Service Cloud for multichannel support.
Michigan Office of Child Support installed Genesys technology to aid families in need.
The 2015 CRM Service Awards have been published in the March 2015 issue of CRM magazine—available in print and in digital NXTBook format. The awards package is also available online.
About CRM Magazine
CRM magazine is the leading publication of the customer relationship management industry, covering sales, marketing, and customer service strategies. The magazine also produces the annual CRM Evolution conference. Each of these properties is designed to serve customer-centric business initiatives and leaders who recognize CRM as a key strategy for creating enhanced customer value in any industry. For more information about the magazine, its editorial calendar, or CRM in general, please visit destinationCRM.com. The monthly magazine and the destinationCRM.com website are properties of CRM Media, a division of Information Today, Inc.