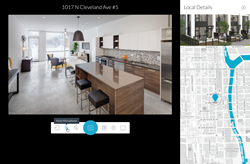 After much testing and affirmation, it's the right time to take our technology to new industries that will benefit.
Chicago, IL (PRWEB) March 31, 2015
ReaLync, the first real estate focused cloud-based platform to enable live virtual property tours and open houses for the residential real estate industry, is expanding into new markets. ReaLync's technology now enables other industries to experience the same benefits by way of its most recent product update, which has created a seamless experience for those touring or showing an item or place virtually. The company is now able to serve other segments of the real estate market, such as commercial real estate and student housing, along with other industries that heavily rely on real-time human interaction like RV sales, construction, interior design, university campus touring, and more.
Jim Marzullo, founder of 10 West Development said, "As a builder of custom residential homes, we have successfully integrated ReaLync on several levels. Initially, we focused on using the live video to provide engaging, interactive tours during the sales process, but have additionally begun using ReaLync during the building process to immediately address any issues that may come up in the field via live video, as well as also giving real-time, virtual tour updates to our clients".
ReaLync's updated product was released mid March and includes a number of important new features that are available today for any users on the platform. Clients are now able to view an interactive Google map while on a live tour to see key attractions, restaurants, and more in the surrounding area. In addition, and useful for all industries, ReaLync's pre-recorded video functionality now allows individuals to record multiple video clips, overlay titles, and stitch them all together to be shared as one finalized video – all within the platform.
Matt Weirich, co-founder and CEO of ReaLync said, "The opportunity to expand into new markets has always been important to us. We've found great validation for ReaLync across residential real estate over the past 6 months by adding over 2,000 users in more than 40 states and 14 countries. After much testing and affirmation, it's the right time to take our technology to new industries that will benefit."
As a result of its latest product release, the company has expanded its customer portfolio to include the likes of Waterton Associates, CMK Realty, Daniel Island, Coldwell Banker's Apostal Group, Real Estate of Winter Park, and FairGreen Real Estate.
Weirich commented saying, "We believe that the market is demanding new ways to interact virtually. In the past, these industries have had to rely on in-person meetings to conduct important business, which can be costly, inconvenient, and untimely. ReaLync is looking to solve those issues, and we're already proving that the need is there and that these industries want a new way to conduct business virtually. We're solving many of these pain points by allowing these immersive experiences to be recorded and stored to the cloud and by giving multiple people from various locations the ability to join and engage – features that no other technology on the market offers today."
About ReaLync
ReaLync is a web/mobile platform that enables live virtual tours and open houses of spaces, along with pre-recorded video creation, providing consumers a more efficient, convenient, and cost-effective way of touring space and interacting with tour hosts. ReaLync transcends the photos and slideshows of yesterday to make touring and sales mobile, real time, and highly interactive. Learn more at http://www.realync.com and try it today in the Apple App Store.