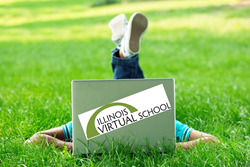 Peoria, Illinois (PRWEB) March 27, 2015
Illinois Virtual School (IVS) is currently accepting student registrations for Summer 2015. The IVS summer term is the perfect time for students to take courses that might not fit into their schedule during the regular school year, to make up missed credits so they stay on track to graduate, or to take something of personal interest.
The IVS program is designed to allow students who are enrolled in a public, private or home school to supplement their education by taking online courses. When appropriate, credit is granted by the local school.
IVS offers two online course solutions to meet the needs of students:
1. Full Service courses offer great flexibility in scheduling and are taught by Highly Qualified, Illinois-certified teachers. Full Service courses meet applicable standards (ILS, CCSS, NGSS, ACTFL, etc.) and are NCAA approved. Each course is $190/semester enrollment.
Full Service Summer Start Dates: April 14, May 5, June 2, June 22
2. Credit Recovery courses utilize prescriptive pretests for each unit of instruction to generate an individual learning plan to mastery. Teacher Managers monitor student progress and grade key activities and exams. Each credit recovery course is $70/semester enrollment.
Credit Recovery courses may be started on any day of the year.
Whether a school looking for a summer solution, or a parent trying to keep kids busy, IVS can help implement a solution that works! IVS has been the expert in online education in Illinois since 2001, with a mission to provide the highest quality learning solutions for all Illinois students. For more information, visit us at http://www.ILVirtual.org/summer.
About Illinois Virtual School
IVS is the Illinois State Board of Education's statewide virtual school. ISBE established IVS as a supplemental online program based out of the Peoria Regional Office of Education. IVS is recognized by the NCAA, International Association for K12 Online Learning (iNACOL), the State Virtual Leadership Alliance and the College Board. For more information, contact us at:
Illinois Virtual School
http://www.ILVirtual.org
309.676.1000