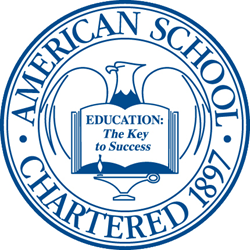 Lansing, IL (PRWEB) April 09, 2015
American School will enjoy a home-state advantage when it exhibits at a pair of Illinois School Counselor Association Conferences this April. The first event is April 10 at the Northfield Inn and Suites in Springfield, and the second event is April 24 at the Skokie Holiday Inn. Both events will start at 8 a.m. and conclude at 3:30 p.m.
"We've called Illinois home since 1902, so we are proud to exhibit at the ISCA Conferences," American School President Gary R. Masterton said. "We work with many school counselors in Illinois, so we hope to renew acquaintances with them and also introduce our Independent Study Program to counselors who may not be familiar with it."
American School's Independent Study Program allows students who attend brick and mortar high schools to take individual American School courses for credit recovery or enrichment purposes. American School offers more than 100 courses in online and paper-based formats, including world language courses powered by Rosetta Stone. Individual courses typically cost between $150 and $300 and include all course materials and access to the password-protected Online Student Center. Similarly, school officials have access to the password-protected Online Counselor Office, where they can monitor their students' progress.
American School is accredited by the Middle States Association of Colleges and Schools/Commissions on Elementary and Secondary Schools (MSA-CESS), Ai (Accreditation International) and NCPSA (the National Council for Private School Accreditation) and is recognized by the State of Illinois as a non-public high school.
For more information on American School's Independent Study Program, call 708-418-2850 or visit http://www.americanschool.org/independentstudy.