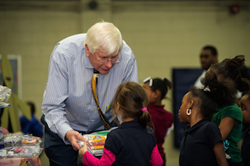 Meeting this need assures that a child has the essential tools necessary to succeed in school.
Durham, NC (PRWEB) March 27, 2015
On March 18 Rev. Dennis McLain, president of Goodwill Community Foundation (GCF), a Durham based nonprofit organization, gave school supply kits to 420 students at Falkland Elementary School in Pitt County. Every student at the school received pencils, pencil sharpener, crayons, erasers, spiral notebooks, hand sanitizer, and scissors – essential tools that will support learning through the remainder of the school year.
This year GCF will distribute 5,000 school supply kits across more than 20 counties in eastern North Carolina as part of a partnership program with schools and youth programs. This is a demonstration of the GCF mission to create opportunities for a better life through supporting the academic success of children in eastern North Carolina, especially those living at or near poverty.
McLain presented each student with a kit and during a presentation at the school shared, "This vital tool kit must be used in order for students to see a benefit. We do this because we want to relieve some of the financial pressure faced by marginalized families. Our hope is that it will free up resources that can be put toward other areas of need."
This is the sixth year for the GCF School Supply Kit Initiative. In August GCF gave kits to children participating in youth programs and is reaching out again during this critical time of year when resources are low and the pressure on the students to succeed is higher due to end of grade testing.
"Meeting this need assures that a child has the essential tools necessary to succeed in school," says McLain. "Not only does this resource provide financial relief, but it also saves the parent the time and transportation costs associated with purchasing these items."
The total cost for GCF for each school supply kit is approximately $5. If a parent bought items for the same kit, it would cost them approximately $14.80, plus shopping time. For more information about GCF and how it supports students, families, and the people of eastern North Carolina, please visit http://www.GCFGlobal.org or call 919-941-9600
About Goodwill Community Foundation (GCF®)
Goodwill Community Foundation (GCF®) continues to be a leader in an era of change by providing the training required for the emerging world where technology is integrated into everyday life. The mission of GCF® is to create and provide education, employment and life enrichment opportunities regionally, nationally and internationally for people who desire to improve the quality of their lives.
The GCF Community Foundation, a Durham-based tax-exempt organization, provides employment, fresh produce and volunteer opportunities, family services for parents with children with disabilities and free accounting services to youth programs across eastern North Carolina. GCFLearnFree.org and GCFAprendeLibre.org have provided free lessons for over 555,000 people in North Carolina since 2010 to improve their technology, math and English skills.
All GCF programs are funded through revenue generated from the value of donated items to 38 Goodwill Community Foundation stores throughout eastern North Carolina. GCF employs more than 400 people who earn an average of $20 per hour with benefits at these stores. For more information on GCF®, visit http://www.GCFGlobal.org.