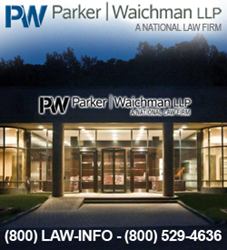 We are pleased to see the litigation moving forward and are delighted that we are one day closer to ensuring justice for women who have alleged suffering serious, life-changing injuries as a result of the Mirena system
Port Washington, New York (PRWEB) March 26, 2015
Parker Waichman LLP, a national law firm dedicated to protecting the rights of victims injured by defective drugs and medical devices, is reporting on recent updates concerning the Mirena intrauterine device (IUD) multidistrict litigation (MDL). A court order was recently issued that directs both parties to each select five cases for potential inclusion in the litigation's Second Disposition Pool; an additional five cases will be randomly selected from those filed. The case is In Re: Mirena IUD Products Liability Litigation, MDL No. 2434 in the United States District Court Southern District of New York.
Parker Waichman has been investigating injuries associated with the use of Mirena for the last three years and has strong reason to believe that the Mirena may cause serious injury to its users. Specifically, the Mirena has been alleged to perforate through the uterine wall, migrate from its original position, and, in some cases, embed itself into other areas of the body, leading to significant injury, including the need for surgical removal of the device.
Of note, Parker Waichman has a leadership role in the Mirena litigation that is centralized in the Southern District of New York. Matthew J. McCauley, Senior Litigation Counsel at Parker Waichman LLP, has been appointed the esteemed position of Co-Lead Counsel in the MDL. Due to its reputation handling personal injury cases involving defective drugs and medical devices and the firm's commitment to ensuring fair compensation for the women it represents in the Mirena litigation, Parker Waichman has also long provided guidance to other law firms, which routinely contact Parker Waichman seeking assistance on these types of cases.
"We are pleased to see the litigation moving forward and are delighted that we are one day closer to ensuring justice for women who have alleged suffering serious, life-changing injuries as a result of the Mirena system," said Mr. McCauley. "As a firm that represents numerous women in Mirena lawsuits, we are committed to ensuring that the public remains informed of these events."
Parker Waichman LLP remains involved with many lawsuits brought against Bayer over alleged adverse reactions associated with its Mirena IUD system and remains available to offer free lawsuit consultations to those individuals who have suffered injuries allegedly associated with the Mirena IUD birth control. If you or a loved one experienced complications following the use of the Mirena, please visit the firm's Mirena® IUD Side Effects page. Free case evaluations are also available by calling 1-800-LAW-INFO (1-800-529-4636).