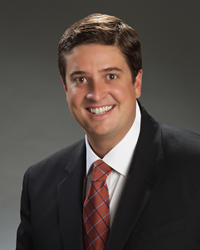 I was fortunate that Gulf Building gave me opportunities to prove myself and take on increased responsibilities from the very beginning.
Fort Lauderdale, FL (PRWEB) March 30, 2015
Gulf Building LLC—a premier provider of commercial and residential construction management services in South Florida—today announced the promotion of Kevin Murphy to vice president. In his new position, Murphy is directly involved in all aspects of the company, responsible for overseeing the facilitation of business development, owner and subcontractor negotiations, staff management and training, and other various internal operations.
"Kevin brings impressive, wide-ranging leadership and operational experience in both the commercial and residential sides of the construction industry. He has been with our company for ten years, and in that time, he has demonstrated tremendous growth, integrity and unparalleled work ethic," said John Scherer, president and CEO, Gulf Building LLC. "We are thrilled to have him as part of our executive team and look forward to his continued success and contributions to Gulf Building in his newly expanded role."
A ten-year company veteran, Murphy joined Gulf Building in 2004 as a project manager. Hired and mentored by Scherer, the East Carolina University graduate quickly learned the ropes, and has since earned an enviable reputation in the field of commercial, industrial and high-end residential construction.
Having grown up around a family-owned and operated construction business, Murphy learned the value of hard work, honesty, safety and integrity at a young age. He brings those same values and work ethic to Gulf Building, effectively applying his longtime industry experience to the company's myriad of successful construction projects.
As project manager for Gulf Building and its joint ventures, Murphy successfully created partnerships with some of the company's biggest-name clients, including the Naval Facilities Engineering Command (NAVFAC), the Department of Veteran Affairs, the Seminole Tribe of Florida, various local municipalities, and a host of trusted, well-known design teams and subcontractors.
"I was fortunate that Gulf Building gave me opportunities to prove myself and take on increased responsibilities from the very beginning," said Murphy. "Their positive expectations let me reach beyond my required role in the company and become more confident with each successful challenge. As vice president, I look forward to continuing to represent Gulf Building, every day, in a positive way to create and expand new partnerships."
Gulf Building offers a full range of in-house construction services including general contracting, construction management, and interior design. Its portfolio includes new construction and renovation in the hotel, medical, office, educational, industrial and governmental sectors, in addition to its ever-growing repertoire of high-end, custom residential projects. Various notable contracts awarded and recent projects in the works include the South Florida Regional Transportation Authority (SFRTA) Operations Center and Pompano Tri-Rail Station Improvements, as well as the structural concrete for the new Jet Blue terminal planned at Fort Lauderdale/Hollywood International Airport. The company also was selected as the general contractor for the construction of Maritime Professional Training's 25,000-square-foot facility expansion currently underway at the private maritime training school's Fort Lauderdale campus.
Gulf Building's headquarters is located at 633 South Federal Highway, Suite 500 in Fort Lauderdale, FL. For more information, call (954) 492-9191 or visit http://www.gulfbuilding.com.
About Gulf Building LLC:
Founded in 1991, Gulf Building LLC provides an innovative, integrated and hands-on approach to construction management and design, serving the greater South Florida market and beyond. Celebrating 25 successful years in business in 2015, the esteemed Fort Lauderdale-based builder maintains that improved timeliness is just as important as staying within budget, and that quality materials mean little without the expertise and skill to guarantee precision. To that end, Gulf Building holds itself to a higher standard than most other construction firms, not only in the work that it delivers, but also with regard to the employees in which the company invests. With a foundation based on integrity, quality and experience, Gulf Building's detail-oriented, forward-thinking approach to construction management and design consistently generates end results that are on time, within budget and exceed client expectations. For more information, including a detailed overview of services and portfolio of past projects, visit http://www.gulfbuilding.com.