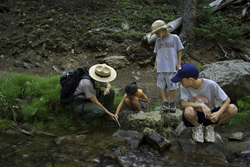 (PRWEB) March 30, 2015
Grand County, Colo. (summer 2015) - Travelers looking for an unforgettable, affordable summer vacation in one of Colorado's most scenic destinations should look no farther than Grand County. Located 67 miles northwest of Denver, on the western side of Rocky Mountain National Park, Grand County is dotted with authentic western towns such as Winter Park, Grand Lake, Granby, Hot Sulpur Springs and Kremmling. Surrounded by wide open spaces and National Forests, these gems offer spectacular mountain vistas, including the Continental Divide. Home to Colorado's largest natural lake, Grand Lake, and the headwaters of the Colorado River, Grand County offers the most accessible water for recreation in the state. It is also a top destination for mountain biking, fly fishing, and dude and guest ranch experiences. With unique and affordable accommodation options, Grand County offers a truly memorable Colorado retreat. Below is a sample of what's making news in Grand County this summer.
UNFORGETTABLE EXPERIENCES:
Rocky Mountain National Park Centennial– This summer through Sept. 4, Rocky Mountain National Park, along with local and national communities, will be celebrating the park's 100th anniversary. Speakers, special activities and community events are being coordinated to commemorate the centennial. Don't miss the "Then and Now" walking tour, which highlights many of the locations that Rocky Mountain National Park visitors have enjoyed throughout the years. The Grand Lake Geo-Cache Adventure is a free family-friendly GPS treasure hunt that utilizes the Grand Lake Geocaching Challenge Passport. Caches are located throughout the Grand Lake area and highlight many of the historical sights and attractions that have existed during the past 100 years. There are also a number of special events scheduled to celebrate the centennial, including:

Grand Lake Art and Architecture Home Tour, June 20 – The tour will focus on historic and artistic homes and structures related to the people and events that helped shape the early days of Rocky Mountain National Park.
Vintage Time Travelers Take Grand Lake, Aug. 25 – The Vintage Time Travelers will kick off the re-creation of the National Park-to-Park Highway completed in 1920. The tour will start in Grand Lake and include 100-year-old cars (Model Ts) and 100-year-old pop-up campers. The original tour, which took place during the summer of 1920, encompassed 5,600 miles and took 76 days. The historic loop includes Rocky Mountain National Park, Yellowstone, Glacier, Mount Ranier, Crater Lake, Lassen Volcano, Yosemite, Sequola, Kings Canyon, Grand Canyon and Mesa Verde.
Grand Lake Tombstone Tales, Sept. 6 – This spooky event will "visit" with six real characters who played a significant role in the early days of Rocky Mountain National Park and the Grand Lake area.
Gore Canyon Whitewater Park Opening – New for summer 2015, this "park and play" whitewater feature will be located at the popular BLM Pumphouse recreational site on the Colorado River near the western edge of Grand County. The park will include large manmade structures placed in the river creating a variety of wave features to be used by kayakers, stand-up paddle boarders and other whitewater enthusiasts.
Summer Tubing at Snow Mountain Ranch – Traditionally a wintertime activity, Snow Mountain Ranch has transformed snow tubing into a four-season sport by offering a Snowflex® tubing slope. This is only the third tubing hill of its kind in the U.S. and the first ever in Colorado. The experience is complete with misters that help keep visitors cool.
Saddle up at one of many area dude & guest ranches – Grand County has earned the designation Dude Ranch Capital of the USA and is home to four authentic dude and guest ranches. For 60-plus years, these dude and guest ranches have whisked individuals, families and groups away from the ordinary with unique western-style experiences set among scenic beauty and gracious hospitality. From traditional horseback trail rides, square dancing and rustic cabins to fly fishing in gold medal waters, haute cuisine and elegant lodges, there is an ideal all-inclusive dude ranch experience for any budget. Ranches offer discounts and two-to-three night stays throughout the summer.
Hut-cations in Colorado's Backcountry – Travelers looking for a unique way to enjoy a night in the outdoors will love the opportunity to stay in a backcountry hut or yurt – one of Colorado's quintessential wilderness experiences. These freestanding dwellings, often a simple cabin or yurt, are only accessible via trail and are the ultimate in off-the-grid comfort. The Broome Hut on the west side of Berthoud Pass is the first in a new series of huts being built and maintained in the backcountry of Grand County. Situated at 11,350 feet, it offers 1,800 square feet of space and can accommodate up to 16 people. Its spacious deck angles toward the impressive Second Creek Headwall – a beautiful sight at sunrise when the first rays of daylight illuminate its rocky face. The High Lonesome Hut, situated on the forested slopes of Lonesome Peak northeast of Tabernash, offers a warm and comfortable refuge for hikers, mountain bikers and horseback riders. At night, visitors can warm themselves by the wood-burning fireplace or gaze up in wonder at a dizzying array of stars. For those looking for an adventure-lite, the YMCA of the Rockies' Snow Mountain Ranch also offers 12 yurts to guests.
Check out Grand County's Facebook page at http://www.facebook.com/grandcountycolorado and follow @grandcountyco on Twitter or http://www.pinterest.com/grandcountyco/ on Pinterest.
About Grand County, Colo. (http://www.visitgrandcounty.com)
Located 67 miles west of Denver, Grand County is home to wide-open spaces, breathtaking mountain scenery and authentic old-west towns. Outdoor recreational activities include golf, boating, fishing, biking, hiking, fishing, hunting, horseback riding, skiing, cross country skiing, snowmobiling, ice fishing, sleigh rides and tubing. The area features more than 600 miles of mapped and marked trails, one national park, two national forests, two wilderness areas, two national scenic byways, two major ski resorts, five world-class dude ranches and four mountain golf courses. Grand County's extensive water network includes Colorado's largest natural lake, 1,000 miles of streams, 1,000 acres of high-mountain lakes and 11,000 acres of reservoirs.