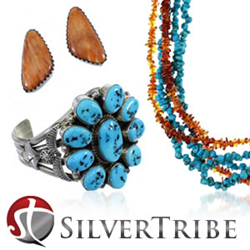 At SilverTribe, you can rest assured that we offer only the best in authentic Native American jewelry and won't accept anything less
Phoenix, AZ (PRWEB) March 26, 2015
Authentic Native American jewelry speaks to people the way few other pieces of jewelry can. The deep spiritual connection to Mother Earth is keenly evident in each piece that authentic artisans craft. Much more than just a fashion statement, authentic Native American jewelry embodies the culture and historical significance of the people that begin crafting hundreds of years ago.
For many years, the only way to obtain truly authentic Native American jewelry was through trips to Native reservations or small stores. Now, you can explore the largest collection of the finest authentic Native American jewelry at SilverTribe.
"As the online leader in authentic Native American jewelry, we go to great lengths to discover the most talented artisans and breathtaking pieces," said SilverTribe spokesperson Chris Anderson. "Making this jewelry available to customers is an honor and privilege we don't take lightly."
True artisans employ painstaking efforts to create handcrafted Native American pieces. These works of art are a reflection of the unique skill set that is required to forge such intricate and treasured gems. However, as Anderson warns, not all pieces of Native American jewelry are created equal.
"Due to its uniqueness and overwhelming popularity, many pieces of so-called authentic Native American jewelry are very far from it," said Anderson. "At SilverTribe, you can rest assured that we offer only the best in authentic Native American jewelry and won't accept anything less."
SilverTribe offers a wide variety of authentic Native American pieces, including Native American rings, earrings, bracelets, necklaces, pendants, belt buckles, bolo ties, watches, and more. In addition to current promotions that reduce prices by up to 60%, SilverTribe offers customers even more savings as part of its email VIP club. Sign up costs nothing and exclusive information about monthly sales and seasonal discounts will be sent directly to your inbox.
"With the lowest prices and complimentary shipping to addresses in the United States, it's no surprise that we are the preferred destination for authentic Native American jewelry enthusiasts," said Anderson. "Customer satisfaction is our top priority, and we take every step necessary to ensure that shoppers get exactly what they are looking for."
To browse the largest collection of authentic Native American jewelry online or for more information about SilverTribe's incredibly inventory, please visit SilverTribe.com today.