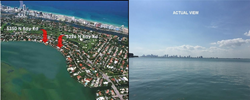 South Florida is an attractive destination for investors, a majority of the progress and surge of Real Estate sales is attributed to an influx of Latin American buyers who are facing political or economic strife in their own country.
MIami Beach, Fl (PRWEB) March 31, 2015
Fabian Garcia-Diaz, principal of FGD Group, and Allan Kleer, principal of TheKleerTeam, top Miami Beach agents, recognized for being in the prestigious top 1/2 of 1% of all sales agents nationwide, just listed two Upper North Bay Road homes on the Bay, both asking $7.9 million each. The Senior-Realtors, who market many of Miami Beach's luxury Island homes and communities to Latin American markets, also met with a Former Brazilian Head of State last week and discussed current political and economic concerns in South America and its impact on the South Florida market.
Political turmoil in Latin American countries has helped to shift new interest and attention to South Florida real estate. Brazilian investors, who are apprehensive about the outlook for fiscal reform in their economy, have pushed demand for Miami Beach homes in prestigious locations such as North Bay Road and waterfront estates in South Florida. The concern is heightened by the depreciation of the Brazilian Real and South Florida has vastly benefitted, as North Bay Road homes, marketed by Kleer and Garcia-Diaz, have been ideal properties for investors looking to build. The two properties just listed for sale are located at 5350 N. Bay Road and 5226 N. Bay Rd in the more desirable northern section of North Bay Road on the island of Miami Beach. Each distinct waterfront property features large docks, and direct Downtown Miami skyline city and Bay views with 79 ft of water frontage on 12,680 and 13,755 SF lots, respectively.
Specializing in luxury waterfront estates in South Florida since 1988, FGD Group and TheKleerTeam have exclusively represented prestigious clientele including celebrities Shakira, Luis Miguel, Stephen Marley and Germany's Herbert Grönemeyer Productions.
Fabian and Allan's market expertise and real estate transactions extends from the representation of luxury Miami Beach homes in exclusive and secure Island communities. Their work has resulted in record-breaking sales of Miami Beach properties in the past six months.