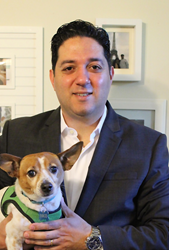 Los Angeles, CA (PRWEB) March 27, 2015
Gary Michelson Found Animals (http://www.FoundAnimals.org), an independently funded nonprofit working to find the big ideas that reduce euthanasia in shelters and improve pets' well-being, today announced Dory A. Andraos has joined the Found Animals executive team as Vice President of Marketing. Andraos is an industry leader with more than fifteen years of marketing experience in both the ad agency and corporate world, and will lead the internal and external marketing teams for the Los Angeles-based nonprofit.
In his new role, Andraos will be responsible for developing results-driven branding, marketing, and communication strategies and will oversee all advertising, media engagement, events, as well as market research for the brand.
"With Dory's excellent relationships in the animal welfare space along with his expertise in strategic marketing and management, we have found a true agent of innovation to join the Found Animals team," said Found Animals Executive Director, Aimee Gilbreath. "Dory is a passionate supporter of the health, betterment and safety of animals and we look forward to furthering the Found Animals mission together."
Prior to joining Found Animals, Andraos oversaw new client acquisition marketing for VCA, Inc., a leading veterinary corporation of pet health care services across the United States. At VCA, one of Andraos' key accomplishments was strategically developing the company's animal welfare partnership program. He also led VCA's customer acquisition digital search marketing campaigns and grew new client business revenue year-after-year.
"I am inspired by Found Animals' goal of creating innovative animal welfare programs that will help improve the overall health and well-being of animals," said Andraos. "I am equally encouraged by Aimee's leadership to build and grow a team of professionals to deliver on that mission and am excited to apply my experience to help make this difference under the tutelage of such a remarkable non-profit organization like Found Animals."
For more information, please visit http://www.FoundAnimals.org.
About Gary Michelson Found Animals
The Gary Michelson Found Animals Foundation, funded by Dr. Gary Michelson and his wife Alya Michelson, is a Los Angeles based non-profit organization that works to achieve one goal: find the big ideas that help reduce the number of pets euthanized in shelters each year. Led by business and medical professionals, we develop innovative solutions that address the underlying causes of shelter euthanasia. Programs address pet adoption, low-cost spay neuter services, pet microchipping and registration, and sterilization research. By offering a wealth of educational resources to pet owners and animal care professionals, Michelson Found Animals advances the health and safety of animals everywhere. Follow our progress online at http://www.FoundAnimals.org, or via social media at Facebook, Twitter, and YouTube.
For more information on the Michelson Prize & Grants: michelsonprizeandgrants.org
For more information on Found Animals Registry: found.org
For more information on Found Animals Adopt & Shop: AdoptAndShop.org
###