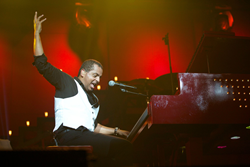 New York, NY (PRWEB) March 26, 2015
The world's most interactive musical revue, Vintage Live, will make its U.S. debut in New York City from April 1 - May 2, giving New York audiences the opportunity to use their smartphones to request any song in real-time and shape each evening's performance all within Le Qube, a state-of-the-art, pop-up, custom-built theater overlooking the Hudson River.
Vintage Live is the brainchild of showman Gregory Charles, who uses technology not as a gimmick but as a means to collect and monitor audience requests, data, and feedback to create a completely original and uniquely crowd-pleasing musical experience every night. Audiences can request any song, and chances are that Charles and his seven-piece band will not only play it, but also mash it up with another song, twist it into a different musical genre, or share a story that illuminates its history or personal meaning to a fan. The multi-talented Charles presides over the evening as master of ceremonies, singer, pianist, and conductor, using a cross between baseball hand signals and American Sign Language to cue his band on the fly as to which keys, tempos and musical styles to play.
Requests cover the full spectrum of music genres. From the top of the pops and Broadway to the progressive rock classics and opera arias to underground folk, hip hop jams and alternative gems, every request is fair game. Charles estimates that he has performed more than 10,000 songs in the past 10 years alone in cities from Paris and New York City to Toronto and San Francisco.
"Music is a time and space capsule, tapping into our happiest and most intimate emotions and memories," said Charles. "Our goal with every performance is to collaborate with the audience to create an unforgettable, collective experience that inspires them to share their own stories and memories, sing, dance, laugh and thrill in the power and joy of music."
The Vintage Live interactive experience begins as soon as concert-goers purchase tickets when they are surveyed about their favorite songs, genres and artists. At the performance, audience members share requests and comments via their smartphones and tablets, which are beamed to a monitor on Charles' piano. Video screens above the stage display a mix of real-time information that might include the current song's title or its year of release or maybe the audience member who requested it. Audience members can even order drinks throughout the show via their digital devices.
To bring Vintage Live to audiences worldwide, Charles conceived the creation of Le Qube, a custom-built, 800-person, mobile theater with cabaret-style seating, VIP lounge, and state-of-the-art light, sound, and video systems. The striking glass and aluminum structure will make its debut in New York City at Hudson River Park's Pier 97.
Hailed by The New York Times for his "boundless confidence, charm, and good humor," and The Wall Street Journal as "resoundingly entertaining," Charles' wildly diverse, 26-year career includes serving as musical director for Cirque du Soleil's 30th anniversary concert in 2014, touring with Celine Dion, releasing four best-selling albums, and hosting popular Canadian radio and television shows. He spent more than three years conceiving and developing Vintage Live in advance of its international debut in the United States in April.
Vintage Live takes place between April 1 - May 2 on Pier 97 at Hudson River Park (57th Street and West Side Highway). Showtime is 8:00 p.m. Tickets (advance only) are priced at $49 & $79 (general), $69 (group) and $149 in The Club (VIP includes Montreal-inspired culinary experience, two cocktails and an exclusive backstage visit). Tickets can be purchased at http://www.vintagelive.com.
About Hudson River Park
Hudson River Park, which extends from Chambers Street to 59th street along Manhattan's west side, is the longest waterfront park in the United States. This free, urban recreational oasis is home to award-winning skate parks, playgrounds, sports fields, gardens and nature exhibits, boating and maritime activities, art installations, and myriad year-round events that celebrate the diverse cultures and neighborhoods along its shores. The Park plays a critical role in protecting the Hudson River ecosystem, and though it receives no public operating funds from city, state or federal government, its development has transformed four miles of decaying piers and parking lots into a premier New York City destination for local residents and visitors alike. The non-profit, Friends of Hudson River Park helps to ensure ongoing sustainability by serving as the Park's primary source of fundraising, advocacy and support, working in concert with the Hudson River Park Trust, the city-state entity that oversees the design, construction and operation of the Park. For more information, please visit http://www.hudsonriverpark.org. Follow us on Twitter and Instagram: @HudsonRiverPark, and LIKE us on Facebook at: http://www.facebook.com/HudsonRiverPark.