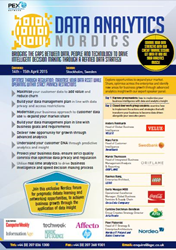 Everything is loaded into memory, so everything is readily available
Stockholm, Sweden (PRWEB UK) 27 March 2015
KBC Bank, Velux, Orfilame, and Arla Foods are all among the most recently confirmed speakers at the Data Analytics Nordics conference to take place in Stockholm on April 14-15.
These and more Nordic companies will get together in April to discuss the most pressing issues that businesses in the region are facing and how they can be solved through Data Analytics.
Data analytics has swept the world, global companies are adopting new ways of using data and hiring executives and officials to be solely responsible for the way the business is utilising its data resources. Utilisation of big data can improve customer satisfaction, reduce churn, and even introduces new streams of revenue.
Anders Reinhardt, Head of Global Business Intelligence at Velux, will be presenting a case study at the conference. Speaking to PEX Network, he explained: "We are more flexible than the average Danish company. Everything is loaded into memory, so everything is readily available; 12 years of history. We are also applying predictive analytics on top of the platform now, so you could say we're preparing ourselves to venture into the area of bigger data but we are still fairly immature in many areas."
At the conference, delegates and speakers will discuss topics such as data monetisation, developing scalable projects by starting with small scale analytics indicators, data advocacy, understanding customers, modernising business approaches, mastering data management, and much more through cross industry case studies.
Tickets and the full event agenda for the industry meeting are available online.