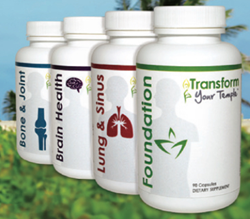 Beyond Organic Founder Jordan Rubin had a dream to create a program that would transform the entire body from the inside out.
(PRWEB) March 27, 2015
It´s hardly a coincidence that Garden of Life founder, Jordan Rubin, has a health story that ranks among the most dramatic cases of improvement on record. Raised in a family that stressed healthy eating habits, it´s impossible to say what caused Jordan to have digestive issues. Even more difficult than finding the cause was the challenge to find a solution. Barraged with intravenous and oral antibiotic and anti-inflammatory drugs, Jordan´s body only deteriorated with treatment. After a few months, the previously fit 19-year-old was reduced to 104 pounds and fitted for a wheelchair, robbing him of any quality of life. When traditional medicine provided no answers, Jordan traveled to seven countries, desperately searching for the solution that renowned U.S. doctors couldn´t offer. He made many wrong turns, but his determination to live eventually led him back to the U.S. where he discovered a health program that would change his life.
After more than 500 treatments from 70 health professionals failed, Jordan discovered the obvious connection between health and nutrition. With this came the understanding that the human body is capable of accomplishing incredible feats and overcoming obstacles, provided that it receives proper nutrition. By following a health plan rich in whole foods, nutrients, enzymes and naturally occurring probiotics, Jordan empowered his body to fight back against his health condition. Jordan Rubin is now in extraordinary health and his vision grows with each life he´s able to touch. His passion is to share the crucial revelations that have changed his life forever.
In 2007, Beyond Organic Founder Jordan Rubin had a dream to create a program that would transform the entire body from the inside out. He knew that by supplying the body with the essential nutrients and critical phytonutrients that it craved, the body and its amazing self-repairing mechanisms would kick into action. After more than seven years of laboratory research and field testing, Jordan has uncovered what he believes to be the missing link in human nutrition.
Gail Bowman, owner of Health Food Emporium, stated, "Jordan's new program, called Transform your Temple, is revolutionary. He has taken the 12 areas of the body and identified herbs and mushrooms that focus on strengthening each of those areas. In Transform your Temple, you receive a bottle of 'Foundation', which has a little of the components of each of the 12 formulas, every month. Then, you receive a bottle of the product for a specific area of the body each month along with the Foundation product.
"So, in May, you will receive Foundation plus Lung Health. In June you will receive Foundation plus Brain Health, and so on. Transform Your Temple is only being offered as a 12-month autoship program. Each month, you will receive two powerful products: one bottle of Foundation, and one bottle of a system-specific formula designed to gently cleanse and re-balance each of the body's 12 systems one month at a time. You will be charged $99 a month every month for a year. If you can't finish the program for any reason, you can 'bow out' but you will then lose your place and you won't be able to come back into the program without starting over.
"This is a first-come first-serve program with limited space available. You will be charged $1 to hold your place in the program, and then $98 on May 4th when the first shipments begin. You can hold you place by ordering on my website, Health Food Emporium."
The areas of the body that Jordan will be focusing on during the course of the year are:
January: Muscular System (Tone and Lean)
February: Circulatory System (Hart and Cardio)
March: Eliminative System (Colon Health)
April: Digestive System (Live and Digestion)
May: Respiratory System (Lung and Sinus)
June: Neurological System (Brain Health)
July: Skeletal System (Bone and Joint)
August: Integumentary System (Skin Health)
September: Urinary System (Kidney Support)
October: Reproductive System (Hormone Support)
November: Endocrine System (Blood Sugar)
December: Lymphatic System (Immune Support)
The Transform Your Temple Foundation product is a unique and dynamic nutritional botanical formula delivering a powerful combination of organic synergized phytonutrients and plant derived minerals to support the foundational systems of the body. For maximum results, Transform Your Temple Foundation is paired with each of the 12 body system formulas every month to create the cornerstone for transforming your body from the inside out.
Gail Bowman is the owner of Health Food Emporium and a Senior Vice President for Beyond Organic/Youngevity. Gail has been involved with Jordan Rubin's products since 2003 and can be reached at Health Food Emporium.