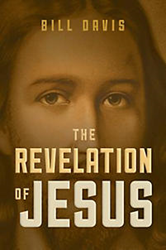 You'll be challenged and blessed as you read.
Anderson, SC (PRWEB) March 27, 2015
CrossBooks is pleased to announce the nationwide release of "The Revelation of Jesus", an acclaimed new work by Christian leader Bill Davis that challenges readers to look at Jesus not only as God but man as well. His fresh examination of Christ aims to foster a deeper hunger to learn more about and be in relationship with this God-made man.
Davis describes his book as portraying a different yet biblical view of Jesus and His acceptance of the common person. He writes to answer the question of how Jesus wants us to live our life through Him, approaching the topic in a way that will resonate whether or not a person was raised in the church. Among the 21 thoroughly researched chapters, titles include: "Alcohol & Profanity," "Sexual Issues," "Did Jesus Ever Get Angry?" "Jesus…Politically Incorrect," "Jesus Was a Hated Man," and "Where Jesus Ain't."
"Is your Jesus meek and mild or strong and wild?" asked Davis. "He is a man full of compassion and love while still demanding obedience to His teachings. As you read this book, I pray you will fall in love with this man we call Jesus, that you will journey into a relationship with Him and become aware that He can use all of us."
Dr. Michael Duduit, founder and executive editor of "Preaching Magazine", said, "Bill Davis is a man who loves Jesus and loves telling others about Him. In this book, he puts his lively writing style to work in sharing his insights about Christ and some of the implications of following Him. His passion for Jesus is seen on every page."
Dr. Bob Cline, vice president for Christian Life at Anderson University in South Carolina, added, "Bill Davis opens another wonderful facet of understanding in his book, The Revelation of Jesus, written with deep passion and from intensive study of scripture. You'll be challenged and blessed as you read."
"The Revelation of Jesus"—suitable for personal reading as well as group study—is available now online and in stores from CrossBooks through LifeWay, as well as Amazon, Barnes & Noble, and other major retailers.
About the Author
Bill Davis graduated from the University of South Carolina with a degree in Religious Studies. He and his wife are involved in full-time Christian work, and Bill is a noted speaker, writer, and mentor to university students. He has also served as a church pastor and has an active online ministry, offering daily devotions read throughout the United States.
An imprint of B&H Publishing Group, CrossBooks offers a unique blend of traditional and self publishing. It serves a variety of Christian writers, from established authors to Christian leaders and first-time authors. As a ministry of LifeWay Christian Resources, CrossBooks is committed to unwavering principles of excellence and Christian faith. For additional information, please visit CrossBooks.com.