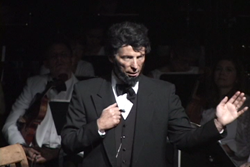 Between the talent on stage and the incredible venue, you'll feel like you're living in 1865
Newport, RI (PRWEB) March 27, 2015
April 2015 is the 150th anniversary of the end of the civil war – the Sesquicentennial. To honor America's bloodiest war and the amazing President that led our country through it, the Fort Adams Trust presents A Tribute to the Civil War and Abraham Lincoln. This moving event will be held 7:00 PM, Friday, April 17, 2015, at the Jane Pickens Theater in Newport, RI.
Chief Justice (Ret.) Frank Williams, noted Civil War-Lincoln scholar, will serve as the master of ceremonies. Dr. Fred Zilian, educator, writer and actor, will speak as "Honest Abe," and Dr. Troy Quinn, leading a 46-piece orchestra, will play an assortment of musical pieces from that era.
Rick Nagele, Executive Director of the Fort Adams Trust notes, "I am convinced that you will enjoy every minute of this performance. Between the talent on stage and the incredible venue, you'll feel like you're living in 1865. The complete understanding that both men have about their subject is impressive; they are both made for the stage. And the music will absolutely move you."
Justice Williams is a long time expert on Lincoln. In 2000, the Chief Justice was appointed to the Abraham Lincoln Bicentennial Commission created by Congress to plan events to commemorate the 200th birthday of Abraham Lincoln in 2009. Since 1996, Chief Justice Williams has served as founding Chairman of The Lincoln Forum, a national assembly of Lincoln and Civil War devotees. For 9 years, he served as President of the Abraham Lincoln Association and, for 14 years, as President of The Lincoln Group of Boston. His book of essays, Judging Lincoln, was published by Southern Illinois University Press in 2002. He, with Harold Holzer and Edna Greene Medford, has written The Emancipation Proclamation: Three Views, Social, Legal and Pictorial just published by Louisiana State University Press. His book, Lincoln Lessons: Reflections on America's Greatest Leader, with William D. Pederson, was published by Southern Illinois University Press in 2009. His latest book, Lincoln as Hero, was published in 2012 .He also serves as Literary Editor of the Lincoln Herald where his quarterly "Lincolniana" survey appears.
Abe Lincoln-presenter and show producer Fred Zilian (http://www.honestaberi.com) said, "This will be a magnificent marriage of music and theater, appropriate for all ages and designed both to entertain as well as to educate. It will commemorate the valor and devotion of both Union and Confederate soldiers. If Honest Abe were alive today, he would be very proud and highly honored. This show will build on our July 2013 show honoring the Battle of Gettysburg, but be even more spectacular."
Fred Zilian has been educating and entertaining audiences since 1997 by interpreting Abraham Lincoln, our most beloved president. According to Nagele, "Fred truly makes history come alive!"
The 46-member orchestra will be led by conductor Troy Quinn, who is quickly establishing himself as one of his generation's most versatile young artists. Lauded for his energetic and riveting, yet sensitive conducting, Quinn is the current Music Director of the Portsmouth Institute Orchestra where he conducts both the classical and pops concert series. This season, he will make his debut with the Juneau Symphony leading the orchestra in the works of Mendelssohn, Haydn, and Walton.
Quinn's past engagements have included performances with many prestigious orchestras both in the United States and Europe, including the London Soloists Chamber Orchestra, the Rochester Philharmonic Orchestra, and the Chamber Orchestra of Philadelphia. He has also appeared at many of the world's major music centers and at such famed venues as the Hollywood Bowl and the Cathedral of Notre Dame.
Music will include Variations on a Shaker Theme by Aaron Copland, selections from the films Gettysburg and Lincoln by John Williams, and America the Beautiful.
Mr. Jay Bragan, Director of Performing Arts at Portsmouth Abbey School, will direct and stage-manage the production.
The Jane Pickens Theater is an updated theater initially built in 1838 as a church. Said Nagele, "Having an event like this in a period building adds tremendously to the emotional feel of the performance."
Tickets: Adults-$25; seniors (65) and military and Fort Adams Trust members-$20; students (18 and under)-$15.
To purchase tickets, go to: http://www.janepickens.com > "Show Times and Tickets" > April 17.
About the Fort Adams Trust
The Fort Adams Trust is a 501 (c)(3) non-profit responsible for preservation, programming, and promoting the National Historic Landmarks in Fort Adams State Park in Newport, Rhode Island. Over 100,000 people tour the Fort and attend events in the Park annually. The Trust accepts donations to support its preservation and programming missions. http://www.FortAdams.org
About Newport, Rhode Island
Newport, often called the City by the Sea, is also referred to as "New England's second global city." In addition to the incredible historic destinations and cultural activities, great restaurants and shops, and unrivaled scenic beauty, there is a cosmopolitan sophistication to the City. International visitors abound and you can hear multiple languages on the streets. http://www.discovernewport.org