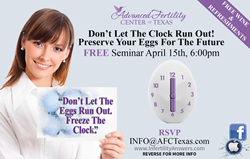 Houston, Texas (PRWEB) April 02, 2015
Hosted at Advanced Fertility Center of Texas' Memorial location 10901 Katy Freeway at 6 PM on Wednesday, April 15th. The seminar will include the benefits of egg preservation, why egg preservation has become so popular, the process, success rates, financing options and a Q&A session. This seminar comes at no cost and includes a gift for all women and couples.
Trends have shown that women are postponing parenthood in order to get ahead in their career or because they are waiting to find the right partner. Egg freezing allows women to have it all by preserving their fertility at the time of vitrification, allowing for these women to have higher fertility potential later on when they are ready to begin their family.
In a statement, the company said, " We are proud to host an event that talks about female fertility and how egg freezing can provide options."
To RSVP click here.
To learn more call (713)467-4488
About the center:
Advanced Fertility Center of Texas has several fertility treatment centers located throughout the Houston metropolitan area, in The Woodlands, Memorial City, and College Station, offering the most comprehensive, cutting-edge fertility services available. They assist couples and individuals in experiencing the joy of parenthood by providing the entire range of fertility services on-site, including artificial insemination, injectable gonadotropins, and in vitro fertilization treatment as well as treatment for endometriosis, polycystic ovary syndrome, and other gynecologic conditions.
To schedule an appointment to find out more, please call (713) 467-4488, ext. 31. You may also email us at info(at)afctexas(dot)com or visit our website at: http://www.infertilityanswers.com.