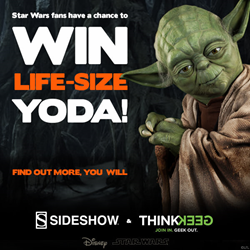 Thousand Oaks, CA (PRWEB) April 02, 2015
Launching April 2nd, Sideshow Collectibles and ThinkGeek are offering Star Wars fans the chance to win the Emperor's "little green nemesis" - a Life-Size Yoda Figure!
"Judge me by my size, do you?" Well don't be fooled, the Master Yoda replica stands at a most impressive 2 feet, 8 inches tall. The magic of Frank Oz's classic character has been perfectly captured in this highly detailed, magnificent replica. Valued at U.S. $2,499.00 Republic Credits, this figure is a galactic dream come true for any Star Wars collector!
And if you miss the target on scoring the grand prize, ThinkGeek is generously providing an amazing Star Wars prize pack for the runner up! This pack will feature a huge assortment of Yoda themed items from the extensive ThinkGeek.com catalogue, including: a Yoda Plush Backpack, Star Wars Cookie Cutters, Yoda Umbrella, Yoda Desk Lamp, Star Wars Motion Lamp, Star Wars Family Decal, Star Wars Golf Club Covers, and Sculpting a Galaxy Model Shop book.
The exclusive contest will run until May 15th, 2015. On May 21st, 2015 one lucky padawan will be chosen to bring home Master Yoda himself and the runner up will get a heap of Star Wars prizes!
Enter here: http://bit.ly/yodacontest "Do. Or do not. There is no try."
About Sideshow Collectibles
In 1994, Sideshow Collectibles embarked on a mission of connecting people with their favorite characters and icons from the worlds of film, television, comic books and popular culture. Today, we are a specialty manufacturer and distributor of the most highly sought after licensed and original collectible products, sustained by a passionate worldwide community that is committed to the lifestyle of collecting figural art. Our headquarters are located in Thousand Oaks, CA.
About ThinkGeek
ThinkGeek, a wholly owned subsidiary of Geeknet, Inc. (NASDAQ: GKNT), is the premier retailer for the global geek community. Since 1999, ThinkGeek has been creating a world where everyone can express their inner geek, embrace their passions, and connect with one another. Our obsession is creation and sharing unique and authentic experiences that stimulate our fans' imaginations and fuel their geek core. We believe that there is a geek in everyone and that it should be celebrated. Want to learn more? Check out thinkgeek.com.
Contact and connect with us:
To learn more about this release, please contact -
Tara Duffy, Marketing Coordinator
2630 Conejo Spectrum Street
Thousand Oaks, CA 91320
Office: 805-214-2135
tara(dot)duffy(at)sideshowcollectibles(dot)com
Website: http://www.sideshowcollectibles.com
Facebook: https://www.facebook.com/sideshowcollectibles
Twitter: https://twitter.com/collectsideshow