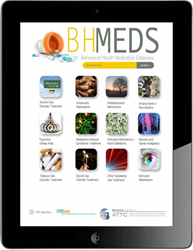 Kansas City, Mo. (PRWEB) March 30, 2015
Mid-America ATTC has just released the BHMEDS App, a mobile library of medications used in behavioral health and addiction treatment.
The app—available free for iPhone, iPad and Android—is a convenient, electronic version of the helpful reference ATTC has published annually since 1999. The useful resource provides up-to-date information on generic and brand name medications, including purpose, dosage and frequency, side effects, emergency conditions, cautions, considerations for pregnant women, and potential for abuse and dependency. It also features counselor strategies for helping patients to quit smoking.
"When treating someone with a mental illness or addiction, it is crucial to know the effects of medications that patients and clients may be taking and how these medications interact with other prescriptions and substances," said Patricia Stilen, Program Director, Mid-America ATTC.
"And now, with the ability to make periodic updates available by download, we're in an even better position to help frontline professionals have immediate access to current information on psychotherapeutic medications."
Because the information downloads to the device, the entire library can be accessed without an Internet connection. This is essential, as Wi-Fi connectivity is not available in all areas of many hospitals and health centers.
"This is more than an app, it's paving the way to better treatments and therapies for people with mental illness and substance use disorders," said Stilen. "It's keeping professionals equipped with easily accessible information on psychotherapeutic medications."
Download the app today through the App Store or Google Play.
Media resources are available at http://www.attcnetwork.org/regional-centers/content.aspx?rc=midamerica&content=STCUSTOM4.
Print and PDF versions of the app are also available. Learn more at attcnetwork.org/midamerica.
Mid-America Addiction Technology Transfer Center (Mid-America ATTC) is located in the School of Nursing and Health Studies at the University of Missouri-Kansas City, Kansas City, MO.
These products were developed by Mid-America Addiction Technology Transfer Center (Mid-America ATTC) under a cooperative agreement from the Substance Abuse and Mental Health Services Administration's (SAMHSA) Center for Substance Abuse Treatment (CSAT).