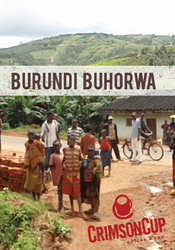 These exceptional coffees offer more depth in the flavor profile at our brew bar. We lightly roast the beans to bring out their origin flavors and reserve them for hand-pour preparation for Columbus coffee lovers to enjoy. - Greg Ubert
Columbus, Ohio (PRWEB) March 27, 2015
Starting March 27, Crimson Cup Coffee House in Columbus is featuring two limited-edition coffees from Southeast Africa at its hand-pour brew bar. Burundi Buhorwa displays cupping notes of candied apple, kiwi and cucumber. Notes of pear, lime and tea rose predominate in Tanzania Lubanda AA.
"These exceptional coffees offer more depth in the flavor profile at our brew bar," said Greg Ubert, founder and president of Crimson Cup Coffee & Tea. "We lightly roast the beans to bring out their origin flavors and reserve them for hand-pour preparation for Columbus coffee lovers to enjoy."
Grown in the Kayanza province north of the capital, Burundi Buhorwa includes Bourbon mix and Jackson Bourbon varietals grown at elevations of 5,800 to 6,200 feet. The community washing station occupies the area's only large tract of nominally flat land, located near a clear swift river, and on the only truck-ready road in sight. Farmers who live close to the washing station deliver ripe red berries daily for processing. After the cherries are hand pulped and fully washed, they are dried on raised beds using a pyramid drying method.
Tanzania Lubanda AA is the top crop from the proud farmers who make up the Lubanda Cooperative in Tanzania's Mbeya district. Coffee trees grow in mica-rich soil on slopes ranging from 4,900 to 5,300 feet in elevation. The inclines are so steep that water run-off from the Lubanda Washing Station drops fifty feet before hitting the treatment pool. After ripe coffee cherries are hand pulped and fully washed, they are dried on raised beds at the washing station.
Columbus coffee lovers can experience Burundi Buhorwa and beginning Friday, March 27, while supplies last, at Crimson Cup Coffee House, 4541 North High Street in Clintonville.
About Crimson Cup Coffee & Tea
Since 1991, Crimson Cup Coffee & Tea has hand-roasted specialty coffee in Columbus, Ohio and taught independent business owners to succeed through its coffee shop franchise alternative program. Sustainably sourced Crimson Cup coffee is available through a network of more than 350 independent coffee houses, grocers, college and universities, restaurants and food service operations across 29 states. For more information, visit crimsoncup.com.
About Crimson Cup Coffee House
Founded in 2007, Clintonville's Crimson Cup Coffee House serves specialty-grade coffee, espresso and loose-tea along with breakfast sandwiches and locally sourced muffins and breakfast pastries. Highly trained baristas prepare espresso-based drinks as well as single-origin coffees at the Crimson Cup Brew Bar. The Coffee House also serves as a testing and training laboratory for Crimson Cup Coffee & Tea, which has been locally roasting coffee in small batches since 1991. For more information, visit crimsoncup.com/coffee-house.