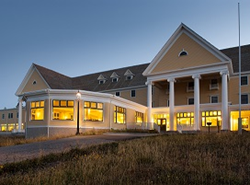 Sustainability is a high priority for every aspect of our operations.
YELLOWSTONE NATIONAL PARK (PRWEB) March 26, 2015
The Lake Yellowstone Hotel, operated by Xanterra Parks & Resorts' Yellowstone National Park Lodges, has received the Green Seal Lodging Standard Bronze Certification for Hotels and Lodging Properties.
Green Seal manages one of the most rigorous and holistic sets of eco-certifications for cleaning products, related services, restaurants and hotels in the industry. The GS-33 standard prioritizes waste minimization, water and energy efficiency, hazardous substance handling, and organizational commitment to programs like environmentally sensitive procurement. Green Seal standards were created to promote sustainability in the marketplace and this certification means that a third party has verified that the hotel's environmental programs are being implemented effectively.
Green Seal's thorough documentation review and on-site audit verified that Lake Yellowstone Hotel protects human and environmental health, conserves water and energy and reduces waste while delivering the quality experience guests expect. Lake Yellowstone Hotel met an extensive set of criteria such as using non-toxic, biodegradable housekeeping products and laundry detergents, energy-efficient appliances and lighting, water-saving fixtures and other low-impact consumer goods in guest rooms and dining areas. Xanterra has corporate waste management and environmental purchasing policies as part of its ISO-14001 certified environmental management system.
"Sustainability is a high priority for every aspect of our operations," said Jim McCaleb, general manager of Yellowstone National Park Lodges. "With the recent completion of a $28 million renovation of the Lake Hotel, we were pleased to integrate aggressive sustainability initiatives that resulted in this prestigious certification."
A member of Historic Hotels of America, Lake Yellowstone Hotel originally opened in 1891 after two years of construction. When the project started in 1889, Yellowstone was still the country's only national park. The recent renovation of Lake Hotel took place primarily over the past two winters during the time when the hotel closed for the season. Notable improvements included major structural enhancements as well as renovations to public areas such as the lobby, Sun Room, dining room and guest rooms.
While conducting the renovations, the construction contractors placed an emphasis on retaining the historic Colonial Revival character of the hotel with authentic touches, including restoration of the original windows, public spaces and rooms as detailed in the construction drawings by the historic preservation architects. Workers removing wood trim and windows that were more than a century old kept careful track of each piece. Great care went into reassembling the hotel's historic fabric, and the workers were committed to salvaging as much of the material as possible in a sustainable way for reuse.
A summary of the certification is available online with other information about Xanterra's environmental programs at Yellowstone. Reservations and complete details about packages, accommodations, restaurants and activities in Yellowstone can be found by calling (1) 307-344-7311 or toll-free 866-GEYSERLAND (866-439-7375), or visiting the web site http://www.YellowstoneNationalParkLodges.com.
###
Known for its "Legendary Hospitality with a Softer Footprint," Xanterra Parks & Resorts® entities include lodges, restaurants, tours and activities in national and state parks, as well as resorts, a cruise line, railway and tour companies. Xanterra Parks & Resorts has operations in Grand Canyon, Yellowstone, Zion, Crater Lake, Glacier, Rocky Mountain and Petrified Forest National Parks; Mount Rushmore National Memorial; Furnace Creek Resort in Death Valley National Park; and five Ohio State Park Lodges as well as the Geneva Marina at Ohio's Geneva State Park. Xanterra Parks & Resorts also owns and operates Kingsmill Resort in Williamsburg, Va., the Grand Canyon Railway and Hotel in Williams, Ariz., the Grand Hotel in Tusayan, Ariz., Windstar Cruises, VBT Bicycling and Walking Vacations, Country Walkers and Austin Adventures.
Xanterra Parks & Resorts
6312 S. Fiddlers Green Circle
Suite 600 North
Greenwood Village, CO 80111