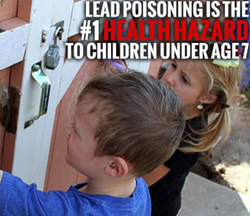 "We are passionate about restoring our environment and protecting people from the hazards of lead with our patented lead paint removal treatment technology" stated James Barthel, President and creator of ECOBOND® LBP, LLC.
Arvada,Co. (PRWEB) March 30, 2015
In an email sent to ECOBOND® LBP, LLC, Matthew Widner in the City of Oak Ridge, TN Community Development Department, announced: "I specifically named Ecobond or equivalent as a bidding option to traditional LBP work".
ECOBOND® LBP, patented lead paint treatment technology, is THE premier lead paint solution and surpasses other lead paint products because it is the only product on the market that seals and treats lead dust and lead in paint. While lead poisoning can cause serious health problems for adults, children are especially vulnerable.
Lead paint is reportedly found in approximately 60% of all structures in the US and increases to over 80% in the major population centers. Historically, options for dealing with lead paint have been expensive, complicated and limited to either removal or encapsulation, which is why lead paint remains a major challenge despite its sale being discontinued in 1978.
Case Study Available on the Effectiveness of ECOBOND® LBP to Seal and Treat Lead Paint:
A comprehensive scientific study was recently conducted to summarize the successful 10 year performance record and provide independent validation ECOBOND® LBP's ability to seal and treat lead paint hazards under the wide variety of lead paint remediation activities. Lead paint hazards included lead dust, peeling and chipping lead paint, and multiple layers of lead paint for both interior and exterior applications. The lead paint materials selected for testing were specifically selected for their multiple layers of lead paint and unusually high lead concentrations; proving ECOBOND® LBPs robust capabilities.
Testing was conducted by an independent laboratory following US EPA test methods.
This Case Study is available for download at: http://www.LeadPaintRemovalReport.com
As reported by the EPA on the topic of "Health Effects of Lead":
Lead affects the body in many ways. It is important to know that even exposure to low levels of lead can severely harm children. In children, exposure to lead can cause:

Nervous system and kidney damage
Learning disabilities, attention deficit disorder, and decreased intelligence
Speech, language, and behavior problems
Poor muscle coordination
Decreased muscle and bone growth
Hearing damage
ECOBOND® LBP, LLC is the nation's leader in developing and distributing products that improve the protection of human health and safety from the hazards of lead in the home, workplace, and the environment. With over 14 years of proven success, the ECOBOND® family of products has been extensively used throughout the US and internationally in successfully treating lead hazards in over 11,000,000 tons of material. To learn more visit http://www.ecobondlbp.com
Media Contact
James Barthel, President
14045 W 66th Ave
Arvada, CO 80004
(303) 456-6977
###