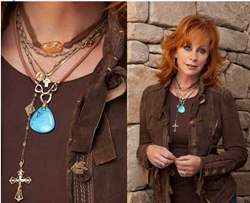 [Turquoise is] for anyone. Clarkson wears very modern styles, while McEntire trends toward the traditional southwest, and yet both are seen with the same gemstone.
Phoenix, AZ (PRWEB) March 27, 2015
Cowboy boots, button-down flannels, and acoustic guitars are all staples of the southwestern star style, and are sure to be seen at this year's Celebrity Fight Night annual charity in Phoenix, AZ. The star-studded event is emceed by country star Reba McEntire and features Kelly Clarkson, both women who are known for their unique turquoise jewelry. TurquoiseJewelry.com, who covers the trends in celebrity turquoise wear, carry the most fashionable and newest styles seen on red carpet stars.
"Turquoise is a given in southwestern jewelry," said TurquoiseJewelry.com spokesperson Jack Burch. "The roots of the stone are from the southwest, and became more mainstream as Native American artisans crafted and sold jewelry with the gemstone to those in the southwest."
"Reba McEntire, as pictured, has been seen wearing our newest pendant styles - blue-hued turquoise in a soft sided triangle shape," said Burch. "It's modern, but still western."
On many occasions, Reba McEntire has been photographed wearing turquoise hoop earrings and delicate turquoise-beaded bracelets. Her daughter-in-law and fellow singer Kelly Clarkson is such a lover of turquoise, she took her jewelry one step further.
Clarkson, a Texas native, bought a beautiful turquoise ring in 2014. The kicker – it was deceased famous author Jane Austen's own ring. Clarkson famously wore the turquoise ring during a performance before donating it to a museum to be displayed beside another turquoise beauty: Jane Austen's elegant turquoise beaded bracelet.
"The fact that Clarkson paid a very large sum of money for a beautiful turquoise piece shows how precious the stone can be to those from the southwest," said Burch. "Though we can't carry Austen's ring - we do have nearly identical pieces, one of which resembles the replacement ring that Clarkson now wears for her charity events."
Burch adds that despite the 30-year age difference between Clarkson and McEntire, both wear turquoise jewelry, "proving it's a gem for anyone. Clarkson wears very modern styles, while McEntire trends toward the traditional southwest, and yet both are seen with the same gemstone decorating their fingers, wrists, and ears."
TurquoiseJewelry.com, a provider of both modern and authentically Native American made turquoise pieces, offers rings, necklaces, earrings, and more jewelry and accessories with turquoise gems to fit any style. "If you want a flash of turquoise on your ears like Reba McEntire, or an oval blue turquoise ring like Kelly Clarkson, both are available at TurquoiseJewelry.com" said Burch. "I guarantee that – just like the previous years – we'll be seeing turquoise at this charity event."
The event takes place in Phoenix, AZ on March 28th. To wear turquoise jewelry in celebration, or just to match your favorite stars, visit TurquoiseJewelry.com.