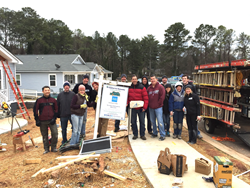 Our team at SignatureFD is committed to making a difference in the community ...
Atlanta, GA (PRWEB) April 01, 2015
February 21 was a colder than average day in Atlanta, but that didn't deter volunteers from SignatureFD and Charles Schwab from bundling up and gathering at 8 a.m. to help build a new home for a local mother and her children in the Venetian Hills neighborhood of Atlanta.
SignatureFD, a leading privately held financial design and advisory firm headquartered in Atlanta, joined with the Charles Schwab branch in Cobb County to co-sponsor the build for Atlanta Habitat for Humanity.
Fifteen SignatureFD and Charles Schwab volunteers wielded brushes, hammers and drills as they painted walls, installed new doors and windows, and completed general carpentry work on the three-bedroom home. It was a successful and fulfilling opportunity for members of the SignatureFD team to work together for a good cause and to be of service to their Atlanta community.
Todd Sheets, a SignatureFD partner who helped organize the volunteer effort, said the firm is committed to helping the Atlanta community. "Our team at SignatureFD is committed to making a difference in the community, and we thoroughly enjoyed the opportunity to work alongside the future owner of the house that we helped build. It was exciting to see the great pride in the quality of work the team exhibited while working on the house," Sheets said.
The proud new homeowner is a fiscal support specialist and mother of two. Her daughters are in the second grade, and they want to grow up to be a doctor and a teacher. They both play clarinet in an after-school program. The new homeowner, who is active in her church and is pursuing a bachelor's degree in human resources administration, was overjoyed at being on hand to build her family's new home.
Atlanta Habitat for Humanity partners with working families, sponsors and communities to build affordable, green, quality homes and to provide support services that promote successful home ownership. Atlanta Habitat for Humanity is one of the largest of the 1,500 Habitat for Humanity affiliates in the United States.
The home is one of seven new houses built on Clark Howard Lane, named for Atlanta's own consumer-advocate radio host. Howard is also co-sponsor of this project and has partnered with Atlanta Habitat for Humanity since 1996, donating his speaking-engagement fees to Habitat's build fund.
About SignatureFD
SignatureFD, LLC, is an innovative and comprehensive financial design firm with a simple mission: to empower each client to use their wealth to live a great life. Founded in 1997, SignatureFD offers a full suite of wealth management services designed to meet the needs of high-net-worth individuals and families. These include asset management, asset protection, tax planning, cash flow and debt management, wealth transfer planning, and financial life planning. For more information, visit the SignatureFD website at http://www.signaturefd.com.
Press Contacts:
Vicki Shackley, Partner
Todd Sheets, Partner
1230 Peachtree St. NE, Suite 1800
Atlanta, GA 30309
404-253-7600
vicki.shackley(at)signaturefd(dot)com
todd.sheets(at)signaturefd(dot)com
###