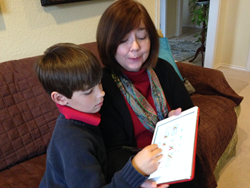 When I saw that MetaMoJi Note was going to be available for all those devices, I knew that this is the one I am going to recommend from now on.
Palo Alto, CA (PRWEB) March 27, 2015
U.S. classroom specialist Susan Paradis, editor of one of the nation's most popular music teaching resource sites, has recommended MetaMoJi Note for use with on-line students.
The popular educational blog "Susan Paradis Piano Teaching Resources," displays piano music developed by Paradis for her own students but shared on the website with anyone who wants to download it. Paradis has been sampling on-line tools and designing lesson plans that can help music teachers increase their effectiveness with the growing number of tech-savvy, tablet-smart students worldwide.
Paradis chose MetaMoJi Note to supplement the use of her piano lessons by those with access to electronic tablets.
Said Paradis: "I was asked to do a workshop on using the iPad in piano lessons. So I went through all the apps again because they all are changing. That's when I said 'Well, this is great, this is exactly what I need, this is better than what I need. This is fantastic!' I did a tutorial for Kitch on my blog and I have also done a tutorial for Jot."
Teachers began to also e-mail Paradis and ask if they could use the MetaMoJi-enhanced materials in other electronic environments – Kindle, Android?, Windows? Says Paradis: "When I saw that MetaMoJi Note was going to be available for all those devices, I knew that this is the one I am going to recommend from now on. Everybody can use it and it has everything you need for creating and conducting lessons. I have never been able to find another one that is on all the platforms. It is so great to be able to say that you can use it on everything. You can use this on whatever. You can even use it on my Window's tablet."
Paradis is a longtime member of the Texas Music Teacher Association and the Music Teachers National Association. She is a trained conductor and has many years of experience as a music educator in public and private schools, in music therapy, and as a voice and private piano teacher.
She is a graduate of the University of South Carolina with a Bachelor's degree in Music and Master Degree in Music Education.
Says Paradis: "I studied Kodaly methods and conducting with the noted Kodaly educator Arpad Daraz. He greatly influenced me in all aspects of musicality. Most notably he taught me that no matter what method or book we use, the most important thing is making beautiful music at every opportunity."
About MetaMoJi Education Solutions
The MetaMoJi mobile productivity platform helps both faculty and students get more from their tablets and other smart devices. MetaMoJi NOTE is a feature rich personal and team productivity tool which offers notetaking, whiteboard functions and voice recording features for individuals and classes. Just some of the features include: drawing, handwriting conversion, voice recording, image and text mashup, document import and export, and capturing of web pages for annotation.
Teachers and students can use MetaMoJi NOTE for notetaking, sketching and recording of class sessions. MetaMoJi SHARE builds upon all of the broad mashup features in NOTE and adds an interactive real-time whiteboard - making it easy for teachers and tutors to meet with students remotely in live online interaction or to look over their shoulders during lively class sessions.
About MetaMoJi
MetaMoJi creates products to break barriers between devices and users with revolutionary applications on smartphones and tablet devices. MetaMoJi's unique innovations give users the comfort of an analog experience with the convenience of digital technology. MetaMoJi's mission is to contribute to the advancement of human beings with unique applications to collect knowledge, write documents, organize ideas and share them with others. Please visit the corporate site for more information.