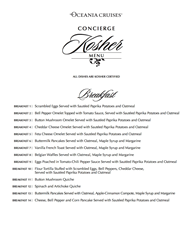 "The veal is good, and not just good for kosher, but really good." Bonita S., San Diego, California
San Diego, California (PRWEB) April 08, 2015
Oceania has a NEW partnership with "Gourmet Kosher" and "Anny's Bread Factory" to provide an exclusive Kosher dining experience which includes over 70 options.
All breakfasts, appetizers, soups and entree items are served on real Chinaware and include real silverware and condiments. Desserts are presented in a plastic container with a lid. All following Kosher guidelines.
PRE-ORDERING:
Guests will be required to pre-order their selections 90 days prior to sailing. Guests who book a cruise with less than 90 days until sailing; would be allowed to pre-order at 70 days prior. All Kosher items will need to be pre-ordered.
ALWAYS AVAILABLE ONBOARD:
The frozen raw Kosher proteins which include Veal Rack, Lamb Rack, Rib Eye Steak, Turkey Breast and Chicken will always be available onboard and therefore do not require pre-ordering.
For booking information contact leila@kosherfoodietravel.com