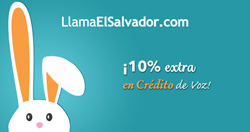 Atlanta, Georgia (PRWEB) March 29, 2015
Easter is a good opportunity to spend time with family and friends and to reflect on the hope and life that come with the Easter story. What happens if your loved ones are miles away? LlamaElSalvador offers an Easter gift that will allow everybody to make longer calls to El Salvador, thus respecting this great tradition that reinforces family bonds.
This means that for every order above $10 placed with LlamaElsalvador.com starting from March 31st until April 2nd, customers receive 10% bonus. Therefore, instead of 59 calling minutes customers usually get for $10, they will receive 65 minutes to call any landline or mobile in El Salvador. Or, in case the numbers they call are Claro landlines, they will receive 100 calling minutes instead of 91 minutes, the standard offer.
The Voice Credit service works as a prepaid phone card offering all the benefits an online service provides: transparency, online account with user-friendly features, and 24/7 Customer Support. The service is intuitive and easy to use.
Calls may be placed:

from any landline, mobile or even payphone in the world, through local or toll free access numbers;
using the app called KeepCalling, that can be downloaded without any cost. The iOS and Android applications may be used to call without having to dial any access number, and even any phone number at all. Once logged in the app, customers can use their phone Contacts to call;
from any PC with an Internet connection, through the Web Call app available in customers' accounts.
LlamaElSalvador.com customers may suprise their loved ones back home in another way: by sending them international top ups. The process takes less than 1 minute and the credit is sent instantly to the destination number. Tigo, Movistar, Claro and Digicel top ups to El Salvador are available, with values varying from $5 to $50.
To feel like home, customers may also access the Virtual Number service, a monthly subscription created for the benefit of people back home. Thus, anyone calling the customers' Virtual Number will pay the regular rate of a local call.
LlamaElSalvador.com is available both in English and Spanish, so customers can navigate using the language that is more familiar to them. Within the same purpose of finding easily the information needed, the website also offers 24/7 Customer Support, that may be contacted by email or phone.
The safe transactions, regular promotions and easy-to-use products make LlamaElSalvador.com a reliable partner in keeping a close relationship with friends and family, no matter the country they live in.
About LlamaElSalvador.com:
LlamaElSalvador.com is an interactive website designed by KeepCalling, a global telecommunications company registered in 2002 in USA. Presently, KeepCalling provides its services to hundreds of thousands of consumers and businesses, with a focus on customer satisfaction. KeepCalling has been listed by Inc 5000 in top 20 telecom companies in the USA for the last 4 years. In 2014 the company was designated the 18th fastest growing company in the telecommunications industry in USA with a revenue increase of over 600% from 2010 to 2013.