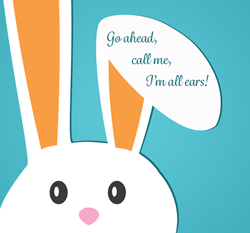 Customers are happy about the low rates and high quality of the service.
Atlanta, GA (PRWEB) March 29, 2015
The Easter Bunny comes early for [KeepCalling.com customers and brings them an eggciting gift: 10% Voice Credit bonus for longer calls on Easter. Easter is a very significant holiday for Christians all around the world, therefore everyone calls home more often at this time. To give its customers even more value for their money, KeepCalling.com has prepared an eggstra special offer taking place between March 31st and April 2nd.
In order to benefit from this promotion, customers need to place a Voice Credit order of at least $15 and use coupon code EAS10R in the ordering process, by April 2nd. By taking advantage of this offer, customers who buy for instance $20 will receive $22, meaning $2 free credit to call home. Plus, as the value of the order grows, so does that of the bonus.The maximum amount available on KeepCalling.com is $200, so that would bring customers $20 free calling credit!
The Voice Credit bought can be used to place international calls from:

any phone through the use of access numbers,
from any computer with an Internet connection through the Web Call application or
from any smartphone as KeepCalling.com offers a free app, for both iOS and Android devices, called KeepCalling. By using the free app, customers can make calls by using their phone contacts as long as they are saved in international format.
In addition to Voice Credit, [KeepCalling.com also offers Mobile Recharge, Monthly Plans, and Virtual Numbers. Mobile Recharge is a service through which customers can recharge phones anywhere in the world. The process is fast and secure and the credit reaches its destination instantly. With over 300 operators from more than 100 countries, KeepCalling.com can satisfy every need of international mobile recharge.
Monthly Plans are monthly subscriptions which offer discounted rates for certain destinations for low monthly fees. The countries which customers can call with KeepCalling.com's monthly plans are: Australia, Bangladesh, Bulgaria, China, India, Germany, Kenya, Mexico, New Zealand, Nigeria, Poland, Romania, South Korea, Thailand, and United States.
Virtual Numbers are monthly subscriptions through which customers pay a low monthly fee and receive unlimited calls from another country. The people calling the Virtual Number only pay the rate of a local call.
To find out more about KeepCalling.com's newest offers, customers are invited to visit their blog at blog.keepcalling.com or to follow them on:

Facebook.com/KeepCalling.Fan
Twitter.com/KeepCalling
Plus.Google.com/+KeepCalling
Customers are happy about the low rates and high quality of the service. One of them says "Great way to be in touch! It is cheap enough not to make me think twice if I want to talk to someone across the globe. I am not being robbed in form of connection fees, handling fees and all kind of other garbage. Nice and simple. Prices going down constantly. Reliable. Love it."
About [KeepCalling.com:
KeepCalling.com is an interactive website designed by KeepCalling, a global telecommunications company registered in 2002 in USA. Presently, KeepCalling provides its services to hundreds of thousands of consumers and businesses, with a focus on customer satisfaction. KeepCalling has been listed by Inc 5000 in top 20 telecom companies in the USA for the last 4 years. In 2014 the company was designated the 18th fastest growing company in the telecommunications industry in USA with a revenue increase of over 600% from 2010 to 2013.