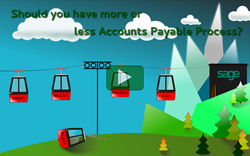 Social technology can be used by businesses to transform the accounts payable process
Buford, GA (PRWEB) March 27, 2015
18:00 – 18:15 London
13:00 – 13:15 New York
A challenge that many businesses face is to decide how rigid to make their accounts payable process. A lack of formal processes can expose a business to accounting errors, over-payments and even fraud. Too much process however can slow down a company's accounts payable function adding cost to the business and risking late payments.
Suntico provides a Facebook-style way to share Sage 50 or Sage One information that is needed to drive your accounts payable processes with ease and transparency.
"Social technology can be used by businesses to transform the accounts payable process" says Silvia Alegría, Head of Marketing at Suntico. "It can provide visibility and accountability without adding rigid procedures".
In this 15-minute Google Hangout on Air, the audience will learn how this new technology can help companies to strike the right balance between control and efficiency.
About Suntico:
Suntico is an online account management system for small to medium sized businesses employing 10 to 100 people.
Suntico includes a Facebook-like online account management solution and is currently available for Sage 50 Accounting US (formerly Peachtree), Sage 50 Accounting Canada (formerly Simply Accounting), Sage 50 Accounts in the UK and Ireland, and Sage One (Ireland and UK).