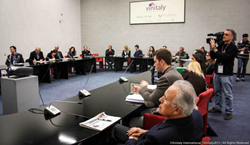 This crisis is the worst that operators have had to face
Verona, Italy (PRWEB) March 27, 2015
Four months after the round table held at Vinitaly Russia on the situation of the Russian wine market, Vinitaly International returned on Sunday with a second session as part of its Talk Business Series during Vinitaly 2015. The sequel was led once again by Alexander Sidorov, editor-in-chief of Drinktime and aimed at offering an international audience of journalist, wine producers and wine educators an update on the current situation: Anatoly Korneev, Vice President of 'Simple', one of the largest importing companies in Russia, emphasised the gravity of the present situation: "This crisis is the worst that operators have had to face".
Despite obtaining Information from the media, people are still unclear about what effect the crisis is having on their businesses and what steps to take. Korneev set out to remedy this by describing the general economic, commercial and political situation with hard figures showing the factors affecting consumption behaviour. Oil prices and currency fluctuations are the determining factor in a market where Italian producers are hit hard, wedged as they are between what the panel referred to as the 'must' market and that for premium high priced wine. Hardest hit have been supermarket internet sales with the tragic loss of companies dealing in this sector followed by the middle range where the crisis has been reflected in the proliferation of incongruous prices belonging to disparate sales policies.
Its not just Russian's spending power that has changed the way they buy wine. Korneev talks about the so called "patriotic way of consumption": many large corporate companies are being told not to buy imported wines and this is in line with the tendency to switch to domestic alternatives.
In predicting the future of spending, Korneev believes the official figures could actually be optimistic and thinks that wine businesses should budget for a drop in sales of at least 40%. Ending on an optimistic note he reassured the audience that if exchange rates improve, the Russian Phoenix will rise again and the market for imports could come out of recession in a couple of years. "It's a positive sign that Russians drink a lot" he laughingly concluded.
Vladislav Volkov , General Manager of Vinoterra, believes the most ambitious result for producers will be to simply maintain a presence on the market stating that it is imperative for them to talk to their importers and develop a common strategy to fine tune prices, which he sees as essential to staying in the game. "If you are not prepared to take these steps you should seriously think about getting out" he warned.
Ekaterina Khudaykova, Head of Training Department for importer MBG, thinks it is significant that producers have decided not to increase prices and her company is being helped with discounts and budgets for which she took the opportunity of publicly thanking those concerned. She cited her involvement with large chains and producers in projects where each side works together on the issue of pricing and results are encouraging. Collaboration requires patience and she thanked those who have already understood that in the current state of the market suppliers will have to wait a little longer than usual for payments.
Nikolay Chashchinov of the importer company Mozel in Saint Petersburg agreed with Ekaterina Khudaykova that Russians are unwilling to go beyond the usual Pinot Grigio or Chianti but, drawing on his own experiences in wine education and the restaurant scene, noted that the HoReCa channels are currently undergoing an interesting transformation. While expensive restaurants are shutting down, new ones are springing up, focusing on a quality price ratio that opens up new possibilities for Italian wines.
In the last part of the session, Siderov took questions from the audience for the panel.
Importer Korneev was asked what strategies he was adopting in the current market. He explained how inevitably portfolios will be slimmed down but reminded us that there is no better strategy at the moment than that of effective pricing. "Everyone around the table is working four times as hard for half the profit" said Korneev, "Importers like myself are cutting their margins to maintain markets and keep our suppliers. This is a sacrifice both sides will have to be willing to make over the next two years before recovery" he added referring to the aggressive strategy that needs to be adopted by importers and producers alike.
Asked whether Russians are going to change their tastes whilst the market is waiting for things to get back to normal, the answer from the panel was probably not. People who just can't afford imported wine could switch tastes to spirits or beer but in the premium segment tastes won't change.
In a frank and honest encounter aimed at damage control the panel's appeal to its Italian suppliers made liberal use of the words 'trust' and 'patience' to a receptive and understanding audience. Sidorov wound up the seminar expressing the feelings of those attending "I'm sure we can overcome this crisis, these problems, but we can only do it together with you".
"Three of the speakers from this panel (Sidorov, Khudaykova and Chashchinov) are Vinitaly International Academy candidates" adds Stevie Kim, Managing Director of Vinitaly International. "I love the idea that after an intensive week training of Italian Wines, this time they have shared their expertise as students in the most challenging period of Russia for everything, including the wine market. It makes sense for them to become Italian Wine Ambassadors for us even more".
About:
Veronafiere is the leading organizer of trade shows in Italy including Vinitaly (http://www.vinitaly.com), the largest wine and spirits fair in the world. During its 49th edition Vinitaly counted some 155.000 visitors and 4.000 exhibitors on a 100.000 square meter area. The last edition of the fair took place on 22 – 25 March 2015. The premier event to Vinitaly, OperaWine (http://www.vinitalyinternational.com) "Finest Italian Wines: 100 Great Producers," united international wine professionals on March 21st 2015 in the heart of Verona, offering them the unique opportunity to discover and taste the 100 best Italian wines, as selected by Wine Spectator. Since 1998 Vinitaly International travels to several countries such as Russia, China, USA and Hong Kong. In February 2014 Vinitaly International launched an educational project, the Vinitaly International Academy (VIA) with the aim of divulging and broadcasting the excellence and diversity of Italian wine around the globe. VIA presented the first edition of its VIA Certification Course in Verona from the 16th to the 20th of March 2015 with the aim of creating new Ambassadors of Italian Wine in the World.
###