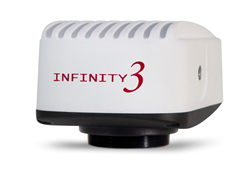 Ottawa, ON (PRWEB) April 01, 2015
Lumenera Corporation, a leading manufacturer and developer of high performance digital cameras and custom imaging solutions, announced today the release of their new high performance USB 3.0 microscopy camera. Based on Sony's EXview HAD II CCD ICX694 sensor, the INFINITY3-6UR provides users with phenomenal color reproduction, high dynamic range, a large field of view and fast preview speeds that are needed for brightfield applications. Also offering the high sensitivity and low noise required for fluorescence image, the INFINITY3-6UR is two cameras in one.
The INFINITY3-6UR offers extremely high dynamic range, 4.54 x 4.54 μm pixels and very low noise. Lumenera has achieved a remarkably low 6 electron read noise, while blazing at the industry's fastest speed on this sensor at 27 frames per second. With 2x2 binning, there is a fourfold increase in sensitivity while providing a 1.5 MP (1376x1096) resolution. Full resolution 6 MP images are sent to a host computer at up to 27 frames per second (fps) over the plug and play USB 3.0 connection.
The new INFINITY3-6UR boasts a larger 1" optical format. With twice the active surface area than the 1.4 MP ICX285 with 2/3" optical format, this high resolution camera achieves a more-than-4x increase in resolution with while still maintaining excellent sensitivity. The result is a camera that delivers outstanding image quality for challenging low light applications such as fluorescence, including those in the NIR region.
The 'R' grade designation of the INFINITY3-6UR is a testament to low-noise electronics, high-grade components and unique thermal management techniques. The INFINITY3-6UR is the ideal solution for most microscopy applications, including life science, clinical and industrial applications that require optimal color reproduction, extreme sensitivity, increase resolution and high speed.
"This newest addition to the Lumenera line of digital cameras is a game changer for microscope users," states Eric Ramsden, Product Manager, Lumenera Corporation. "Built on Sony's EXview HAD II sensor technology, the INFINITY3-6UR offers striking color reproduction, low noise, high speed, and a larger field of view. It has exceeded our expectations and we are confident our customers will be thrilled with the amazing performance of this camera."
The INFINITY3-6UR comes with Lumenera's fully-featured INFINITY ANALYZE, an image capture and analysis software package offering camera control, measurement, annotation, multispectral capture and composition, and post capture enhancement. Camera and software combine to create a complete microscopy imaging solution for your application. For additional information on this product or any of Lumenera's INFINITY microscopy cameras, visit http://www.lumenera.com.
About Lumenera
Lumenera Corporation, a division of Roper Industries, and headquartered in Ottawa, Canada, is a leading developer and manufacturer of high performance digital cameras and custom imaging solutions. Lumenera cameras are used worldwide in a diverse range of industrial, scientific, security and astronomy applications.
Lumenera solutions provide unique combinations of speed, resolution and sensitivity in order to satisfy the most demanding digital imaging requirements. Lumenera customers achieve the benefit of superior price to performance ratios and faster time to market with the company's commitment to high quality, cost effective product solutions. For further information about Lumenera, please visit http://www.lumenera.com or call 613-736-4077. To receive Lumenera press releases as they are issued, contact us at marketing(at)lumenera(dot)com.