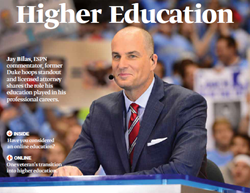 My sister went to law school before I did, but my parents encouraged us to look at the field as an option
(PRWEB) March 27, 2015
Mediaplanet's second cross-platform edition of "Higher Education" sheds light on the importance of understanding our rapidly changing education system, as well as the opportunities available for the non traditional student who may be a working adult, full time parent, or active member of our armed forces. Lifelong learning has never been easier, as education has become more accessible, affordable, and proven itself undoubtedly beneficial in the modern workforce.
Jay Bilas, ESPN basketball analyst, former Duke hoops standout and licensed attorney, graces the cover of the print publication. Through an exclusive interview with Mediaplanet, he explains why education was critical throughout his varied professional careers. "My sister went to law school before I did, but my parents encouraged us to look at the field as an option," he states. "They believed one of the good things about it was that you didn't have to be a lawyer to make use of it, and I thought that was a good part of it as well."
The print component of "Higher Education" is distributed within this weekend's edition of USA Today in New York, Chicago, Denver, Los Angeles, Houston, Philadelphia, Washington DC/Baltimore with a circulation of approximately 450,000 copies and an estimated readership of 1.3 million. The digital component is distributed nationally through a vast social media strategy and across a network of top news sites and partner outlets. To explore the digital version of the campaign, click here.
This edition of "Higher Education" was made possible with the support of Jay Bilas, the Association for the Study of Higher Education (ASHE), University Professional & Continuing Education Association (UPCEA), Association of American Publishers (AAP), American Council on Education (ACE), National Education Association (NEA), NASPA Veterans Knowledge Community, Western Governors University, Kaplan University, Cengage Learning, CommonBond, Vista Higher Learning, Wells Fargo and many more.
About Mediaplanet
Mediaplanet is the leading independent publisher of content-marketing campaigns covering a variety of topics and industries. We turn consumer interest into action by providing readers with motivational editorial, pairing it with relevant advertisers, and distributing it within top newspapers and online platforms around the world.