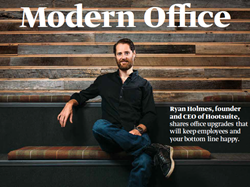 If people physically feel better, they're likely to be happier and more productive
(PRWEB) March 27, 2015
As of 2015, nearly 50 percent of America's professionals are women. Eighty-eight percent of children live in households where both parents work and by 2020, millennials will become the largest generation our workforce has ever seen. Today Mediaplanet is proud to announce publication of "Modern Office," a guide from leading industry thought leaders in office productivity, engagement and design to guide businesses in personalizing their office to fit their team's needs.
The American workforce is shifting towards a more personalized presence through unique office design, self-employment, new business structures, technology innovations and a stronger work-life balance. "A huge chunk of our lives are spent in an office—it's no wonder that 80 percent of Americans don't get their weekly-recommended amount of exercise," explains Ryan Holmes, founder and CEO of popular social media management tool Hootsuite. "If people physically feel better, they're likely to be happier and more productive."
In a digital exclusive, Jacob Morgan, best-selling author and the founder of the Future of Work Community and Podcast, discusses the latest work trend sweeping the nation: freelancing. "Freelancing has not only become an accepted career path, but it's becoming more mainstream and this trend is not going to slow down."
The print component of "Modern Office" is distributed within the weekend edition of the San Francisco Chronicle. This 8 page glossy, full-color special section hits newsstands Friday, March 27th, distributed within the centerfold of the Chronicle in highly targeted markets totaling approximately 173,000 copies and an estimated readership of over 500 thousand. The digital component is distributed nationally through a vast social media strategy and across a network of top news sites and partner outlets, including 1 Million for Work Flexibility, Konica Minolta's Business Innovation Centers, and many more. To explore the digital version of the campaign, click here.
This campaign was made possible through the support of Workrite Ergonomics, ChargeSpot, OutSmart Solutions, Ergo Depot, and Konica Minolta Business Innovation Center, Inc.
About Mediaplanet
Mediaplanet is the leading independent publisher of content-marketing campaigns covering a variety of topics and industries. We turn consumer interest into action by providing readers with motivational editorial, pairing it with relevant advertisers, and distributing it within top newspapers and online platforms around the world.