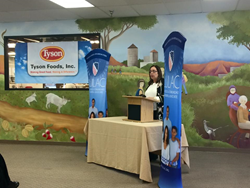 (PRWEB) March 27, 2015
As part of LULAC's commitment to eradicate hunger and malnutrition, LULAC, Tyson Foods, and the Roadrunner Food Bank of New Mexico have joined efforts to distribute a truckload of protein to the Roadrunner Food Bank. Through LULAC programs, services and advocacy, LULAC will continue to tackle important issues by making information and resources available to the community.
Eradicating hunger is an important issue for LULAC as Native Americans and Latino children have some of the highest rates of hunger in the nation and the southwest region includes high concentrations of these populations. According to recent data from the Roadrunner Food Bank, 66% of participants are Hispanic or Latino and 40% of Mobile Food Pantry recipients are children.
LULAC, the oldest and largest Latino civil rights organization in America, among its goals, works to advance health disparities in the Hispanic community.
"Through LULAC programs, services and advocacy, we tackle important issues such as hunger and malnutrition by making information and resources available to the community," said LULAC National President Margaret Moran. "That is why we are so pleased to partner with Tyson Foods which has made this very generous food donation in New Mexico possible."
Meat and poultry are high quality sources of complete protein, and according to the 2010 Dietary Guidelines for Americans released by USDA and the Department of Health and Human Services, protein is considered the most important macronutrient in the human diet. It provides essential amino acids, is a source of energy and is critical during growth and development. Meat and poultry are excellent sources of iron, which is especially important for women, children and adolescent girls, who are often deficient in iron.
"Over half of the individuals supported by the Roadrunner Food Bank are faced with having to choose between paying utilities or buying food," said Tyson Foods' Director of Federal Government Relations Nora Venegas. "It is our goal to help alleviate this need by providing protein to those in need but also raising awareness about how important protein is in a diet."
Melody Wattenbarger, president and CEO of Roadrunner Food Bank said, "New Mexico is ranked #1 for childhood hunger and #4 for overall hunger among all states in the U.S. Protein donations such as this one from Tyson and LULAC are critical in helping us provide an important source of meals for our hungry neighbors. Often hungry people tell us they are unable to afford all the food they need for their families. They turn to us and our network of partners across the state to supplement the food they cannot afford on their own. This donation of protein will go a long way in helping us provide a source of healthy food to our hungry neighbors. Thank you Tyson and LULAC for making this possible."
About LULAC:
The League of United Latin American Citizens (LULAC) is the nation's largest and oldest civil rights volunteer-based organization that empowers Hispanic Americans and builds strong Latino communities. Headquartered in Washington, DC, with over 1000 councils around the United States and Puerto Rico, LULAC's programs, services and advocacy address the most important issues for Latinos, meeting critical needs of today and the future. For more information, visit http://www.LULAC.org
About Tyson Foods:
Tyson Foods, Inc. (NYSE: TSN), with headquarters in Springdale, Arkansas, is one of the world's largest producers of chicken, beef, pork and prepared foods that include leading brands such as Tyson®, Jimmy Dean®, Hillshire Farm®, Sara Lee® frozen bakery, Ball Park®, Wright®, Aidells® and State Fair®. The company was founded in 1935 by John W. Tyson, whose family has continued to lead the business with his son, Don Tyson, guiding the company for many years and grandson, John H. Tyson, serving as the current chairman of the board of directors. Tyson Foods provides a wide variety of protein-based and prepared foods products and is the recognized market leader in the retail and foodservice markets it serves, supplying customers throughout the United States and approximately 130 countries. It has approximately 124,000 Team Members employed at more than 400 facilities and offices in the United States and around the world. Through its Core Values, Code of Conduct and Team Member Bill of Rights, Tyson Foods strives to operate with integrity and trust and is committed to creating value for its shareholders, customers and Team Members. The company also strives to be faith-friendly, provide a safe work environment and serve as stewards of the animals, land and environment entrusted to it.
About Roadrunner® Food Bank:
New Mexico is ranked as one of the hungriest and most poverty-stricken states in the nation. Roadrunner® Food Bank, a Feeding America member, is the largest nonprofit dedicated to solving hunger in New Mexico and operates locations in Albuquerque and Las Cruces. Last year, the Food Bank distributed more than 28 million pounds of food through its own programs, a statewide network of partner agencies and regional food banks, helping 70,000 children, seniors and adults weekly. Roadrunner Food Bank kept 22 million pounds of food out of landfills last year through its Food Rescue Program. For more information on solving hunger in New Mexico, visit http://www.rrfb.org, or follow us on social media at: http://www.facebook.com/roadrunner.food.bank, http://www.twitter.com/roadrunnerfdbnk, http://www.instagram.com/roadrunnerfoodbank or http://www.rrfb.org/blog.