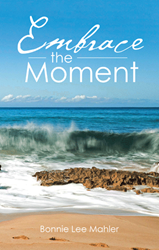 Embrace the moment because that is truly all that is certain.
KAPOLEI, Hawaii (PRWEB) March 30, 2015
After losing one son to a drowning accident, Bonnie Lee Mahler's world was immediately transformed. Unfortunately, tragedy knows no limits. Her second son was taken from her in a similar event only a short time after.
Other than Celine Dion herself, few people know the words and meaning behind "My Heart Will Go On," more than Mahler. As a tribute artist, Mahler performs and shares messages of love and inspiration originally sung by Dion to audiences nationwide. She holds tightly to the lyrics and understands the power behind them.
After the loss of her two sons in separate and heartbreaking accidents, she found strength in positive messages and optimistic thinking to overcome loss and learn to love again.
"My life's journey led me to the special opportunity of meeting Celine Dion," Mahler said. "Her music had been a big part of my personal healing. I realized I had a story to share."
Mahler's shares this story and the intimate moments of sorrow then growth that led her to success in her book, "Embrace the Moment."
Today, Mahler sings and performs for live audiences. She is also a fitness director and life mastery coach, trained in nontraditional approaches to health including Reiki, Hypnotherapy, Aromatouch therapy and Myofascial release. With Mahler's background and her enthusiasm for health and wellness, she is able to aid individuals in taking care of their wellbeing.
"It was through the process of healing that I gained an understanding of what my purpose truly was," Mahler said.
Mahler's hope is that her memoir will serve as an inspirational call to action for other individuals suffering through the pain of loss. Mahler has come to believe that it serves a person better to embrace the moment, because that is truly all that is certain.
For more information, visit Balboa.
Embrace the Moment
By Bonnie Lee Mahler
ISBN: 1504325346
Available in softcover, hardcover, e-book
Available on Amazon, Barnes & Noble and Balboa Press
About the author
Bonnie Lee Currently lives in Kapolei, Hawaii, with her husband. After losing two of her sons separate accidents she wrote, "Embrace the Moment," to help others going through similar tragedies. Aside from being a Celine Dion tribute artist, Mahler is a wellness, life mastery, neuro-linguistic (NLP) and hypnotherapy coach.
**FOR IMMEDIATE RELEASE**
For review copies or interview requests, contact:
Jake Doll
317.602.7137
jdoll(at)bohlsengroup(dot)com