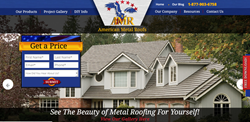 We understand that savvy consumers want comprehension information to help them make educated decisions about major home improvement purchases. Our new site offers customers a wealth of information and options. -Jim Anderson Marketing Director- AMR
Flint, Michigan (PRWEB) March 30, 2015
American Metal Roofs (AMR) is pleased to announce the launch of their new website. AMR's 3rd major design revision incorporates the latest technologies that are designed to enhance visitor experience. By upgrading to a WordPress platform, AMR brings to life metal roofing solutions with more photography and customer videos.
We understand that savvy consumers want comprehension information to help them make educated decisions about major home improvement purchases. Our new site offers customers a wealth of information and options. And our expert roofing consultants are just a click away, ready to answer questions. - Jim Anderson - American Metal Roofs- Marketing Director
In addition to new media content, site visitors will find new pages on financing, and the newly introduced Heated Shingle product, along with accessing monthly specials and a wealthy of downloadable information.
Phase II of the new site will feature an interactive module where roofing prospects can see what their house will look like with a metal roof.
About American Metal Roofs:
American Metal Roofs provides residential and commercial metal roofing products and services for the Michigan Lower Peninsula. American Metal Roofs specializes in installing metal roofing from the leading manufacturers of permanent metal roofing.