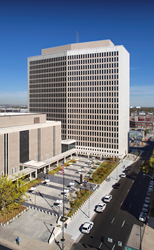 Denver, Colorado (PRWEB) April 01, 2015
Today, the U.S. General Services Administration is re-dedicating the 18-story Byron G. Rogers Federal Building & Courthouse located at 1961 Stout Street. The project cost was approximately $160 million, $147 million of which was funded by the American Recovery and Reinvestment Act. The result is a modern, highly-efficient workspace for 11 federal agencies that helped revitalize the eastern edge of the downtown central business district at 20th & Stout Streets. The improvements are expected to create 55 percent overall energy reduction in the federal building. That means GSA will reduce its greenhouse gas emissions by more than 3225 tons of CO2, which is the equivalent of taking 679 cars off the road or providing energy to 295 average sized homes.
The primary goal of the modernization was to upgrade all of the major building systems. This included replacement of mechanical, electrical and plumbing systems in the federal building. The project also replaced 250 windows in the courthouse with double glaze, low E, gas-filled high efficiency units. GSA selected design constructor Mortenson Construction who teamed with project architects Bennett Wagner & Grody Architects and HOK on board. The facility was built in the 1960s and required a deep retrofit to reduce energy use while preserving its historical significance. The facility is expected to attain a LEED® New Construction GOLD certification.
From GSA Regional Administrator Susan Damour: "We are one of the largest and most diversified public real estate organizations in the world and as such, we have a responsibility to help lead the government's sustainability transformation. High-performing green buildings provide the best value for the taxpayer and the public because they minimize the federal footprint through efficient use of energy, water, and resources, and they create healthier productive workspaces."
Key Facts

Approximately 8,300 workers were employed during the course of this project and $59 million of the project's subcontracting work was performed by small business
Federal mandates require water savings of 20 percent in the building and the design-build goal is to achieve approximately a 40 percent reduction in water use
Aggressive energy goal of less than 45.1 kBtu/SF/yr which achieves annual energy savings of approximately 55 percent
Solar panels were installed on the roof to offset energy use of domestic hot water
The building is primarily heated and cooled through the use of an Active Chilled Beam system. This system uses significantly less energy than the standard conventional HVAC system
50 percent of all construction trash and debris produced during the project was diverted from the landfill
The building features three works of art by Tsehai Johnson and Liz Larner. These works are part of the GSA Art in Architecture program, which oversees the commissioning of artworks for new federal buildings nationwide
Daylighting increased approximately 25 percent from the existing condition