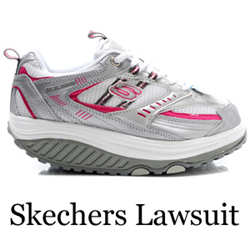 If you have been injured by Skechers Shape-Ups or Toning Shoes, Contact Wright & Schulte LLC at 800-399-0795 or visit yourlegalhelp.com for a FREE Skechers lawsuit consultation.
Columbus, OH (PRWEB) March 31, 2015
The product liability attorneys of Wright & Schulte LLC have recently filed 420 Skechers lawsuits on behalf of men and women from across the country who allege that their Shape-ups toning shoes caused serious injuries. The complaints were filed in the 22nd Judicial Court of Missouri in the City of St. Louis (case no. 1522-CC00016, 1522-CC00018, 1522-CC00019, 522-CC00025, 1522-CC00029, 1522-CC00053). These lawsuits were not filed as part of the Skechers multi-district litigation currently pending in U.S. District Court, Western District of Kentucky (MDL2308). The Skechers lawsuits allege that the Skechers Shape-ups toning shoes caused serious injuries including:

Fractured ankles
Leg fractures
Arm fractures
Hip fractures
Ruptured Achilles tendon
Head trauma
Torn tendons in the foot
Facial hematomas
The firm is currently representing hundreds of plaintiffs in Skechers Shape-Up Lawsuits currently filed in MDL2308, which is separate from the Missouri filing, and continues to speak with men and women across the country who believe they have been injured due to wearing Skechers Toning Shoes. Wright & Schule LLC offers free legal consultations to purported victims of Skechers. You can speak with one of the firms product liability attorneys by calling 1-800-399-0795 or visit http://www.yourlegalhelp.com for information on Skechers lawsuits and other product liability lawsuits the firm is currently handling.
The 420 Skechers complaints also contend that the purportedly defectively designed Shape-ups toning shoes with the rocker bottom suddenly pronate inward and causes the plaintiffs' ankles to collapse, and the plaintiffs to fall down as a result. According to the Skechers lawsuits, some plaintiffs needed surgery to repair the injuries allegedly caused by their Skechers toning shoes.
"The people involved in these cases have suffered a multitude of different injuries. Skechers knew or should have known about the risks of serious bodily harm associated with its Shape-up toning shoes," says Wright & Schulte LLC, which continues to fight large corporations on behalf of men and women across the country who have been injured by defective or unsafe products. "As a result of Skechers failing to provide adequate warning to the public about its toning shoes, consumers have suffered physical pain and incurred – and continue to incur – significant medical expenses." Richard W. Schulte, a founding partner with Wright & Schulte LLC, serves on the Plaintiffs' Steering Committee for the federal product liability litigation.
The Skechers lawsuits in MDL 2308 allege that Skechers misrepresented the health benefits of its Shape-ups by saying in its advertisements the toning shoes help people lose weight, increase overall circulation and improve muscle tone. In May 2012, the Federal Trade Commission (FTC) announced that Skechers USA, Inc. agreed to pay $40 million to settle charges that "the company deceived consumers by making unfounded claims" about the health benefits associated with its shoes. The agreement called for consumers who bought Shape-ups and Skechers other toning shoes to receive refunds either through the FTC or through a court-approved class-action lawsuit. Court documents show that in May 2013, U.S District Judge Thomas B. Russell, who is managing the Skechers litigation in Kentucky, approved the settlement which covered more than 520,000 claims. About 1,000 plaintiffs eligible for the settlement decided not to accept the deal, according to court documents. (In Re: Skechers Toning Shoes Products Liability Litigation – MDL 2308)
[ftc.gov/news-events/press-releases/2012/05/skechers-will-pay-40-million-settle-ftc-charges-it-deceived, May 16, 2012]
The recently filed Sketchers complaints join 1,038 Skechers Shape-ups toning shoes lawsuits pending in MDL 2308 as of March 17. One of the recently filed complaints contentds that the Shape-ups worn by a Minnesota woman pronated inward as she was walking on a flat cement surface and this caused her leg to collapse, and she fell. According to the Skechers lawsuit, the woman was diagnosed with a knee injury that required a total knee replacement surgery. Another complaint alleges that the x-rays of a New Jersey woman who fell down due to her Shape-ups pronating inward, showed she fractured her ribs and was diagnosed with a blood clot of the left breast which she sustained when she fell into a ladder. (In Re: Skechers Toning Shoes Products Liability Litigation – MDL 2308
About Wright & Schulte LLC
Wright & Schulte LLC, a personal injury firm, is dedicated to the belief that America's legal system should work for the people. Every day, the attorneys of Wright & Schulte LLC stand up for the rights of people who have been injured or wronged, and fight tirelessly to ensure that even the world's most powerful corporations take responsibility for their actions. If you're looking for a law firm that will guarantee the aggressive and personal representation you deserve, please do not hesitate to contact Wright & Schulte LLC today. Free Skechers Shape-ups case evaluations are available through yourlegalhelp.com, or call 1-800-399-0795.
Contact:
Wright & Schulte LLC
812 East National Road
Vandalia, Ohio 45377
1-800-399-0795
http://www.yourlegalhelp.com
Like us on Facebook
Follow us on Twitter
Join us on Google+