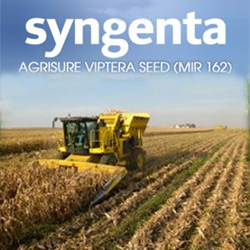 Wright & Schulte LLC is offering free legal consultations to corn growers, harvesters and sellers who were financially harmed by Syngenta's actions. Call 1-800-399-0795 or visit www.yourlegalhelp.com
Columbus, OH (PRWEB) March 30, 2015
Wright & Schulte LLC, who is currently representing clients in product liability lawsuits, notes that the number of Syngenta corn lawsuits now pending in a federal multidistrict litigation underway in U.S. District Court, District of Kansas, have risen sharply since the proceeding was established in December 2014. "According to an update released by the U.S. Judicial Panel on Multidistrict Litigation (JPML) on March 16th, at least 493 Syngenta lawsuits are now consolidated in the federal litigation, all of which were filed on behalf of farmers, corn growers, distributors and others who allegedly suffered economic losses due to Syngenta Inc.'s sale of Agrisure Viptera GMO corn seed prior to its approval in China," states Wright & Schulte LLC (In Re: Syngenta AG MIR 162 Corn Litigation – MDL No. 2591)
"This represents a substantial increase since the JPML ordered the establishment of the Syngenta litigation in December. In its Initial Transfer Order issued on December 11, 2014, only nine claims were transferred to the District of Kansas," says Wright & Schulte LLC. "But this development really is not surprising, considering the economic damage the U.S. agricultural industry allegedly sustained due to the drop in corn prices precipitated by Syngenta's handling of the Viptera product. Based on the number of inquiries our firm receives on a regular basis regarding this matter, we believe the number of plaintiffs could eventually reach into the thousands."
Wright & Schulte LLC continues to investigate cases on behalf of farmers and others who claim to have sustained financial damages due to Syngenta's sale of Viptera seed prior to its approval in China. To speak with one of the law firm's experienced attorneys, call 1-800-399-0795 or visit yourlegalhelp.com for more information on filing a Syngenta lawsuit.
According to court documents, Syngenta lawsuit plaintiffs allege that the Swiss-based agricultural company misled U.S. farmers about the timeline for regulatory approval of the Viptera GMO variety in China, which has a well-known zero tolerance policy regarding the import of unapproved seeds. In November 2013, China began rejecting U.S. corn shipments tainted with the Viptera trait, ultimately turning back more than 1.2 million tons of U.S. crops. Plaintiffs further claim that these rejections cost U.S. agribusinesses more than $1 billion.
[in.reuters.com/article/2014/12/18/corn-china-approvals-idINL1N0U225D20141218, Reuters, December 18, 2014]
Wright & Schulte LLC recently held two town hall meetings in Findlay and Dayton, Ohio, to provide farmers in that area with information regarding their legal rights pertaining to the Syngenta litigation. The Firm was pleased with the turnout at the events, which were held on February 17th and 19th, respectively. "Our Syngenta lawyers felt it was important to reach out to area farmers, as many were unaware that they can pursue legal action even if they did not grow Viptera corn," says Wright & Schulte LLC.
The Firm continues to stress that any farmer in the U.S. who grew commercial grade hybrid corn from 2011 through 2014 – regardless of the variety – is eligible to file a Syngenta lawsuit in the federal litigation underway in Kansas. For more information on filing a Syngenta lawsuit, or to arrange for a free legal consultation, please contact Wright & Schulte LLC today by visiting yourlegalhelp.com.
About Wright & Schulte LLC
Wright & Schulte LLC, an experienced personal injury firm, is dedicated to the belief that America's legal system should work for the people. Every day, the attorneys of Wright & Schulte LLC stand up for the rights of people who have been injured or wronged and fight tirelessly to ensure that even the world's most powerful corporations take responsibility for their actions. If you're looking for a law firm that will guarantee the aggressive and personal representation you deserve, please do not hesitate to contact Wright & Schulte LLC today. Free Syngenta lawsuit case evaluations are available through yourlegalhelp.com or by calling 1-800-399-0795.
Contact:
Wright & Schulte LLC
812 East National Road
Vandalia, Ohio 45377
1-800-399-0795
http://www.yourlegalhelp.com
Like us on Facebook
Follow us on Twitter
Join us on Google+
#corn #farmers