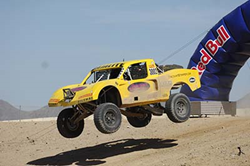 (PRWEB) March 30, 2015
Discountstripper.com literally took their show on the road this month all the way to THE MINT 400 in Las Vegas, NV - March 14, 2015. They sponsored a Bajalite 3000 series vehicle from Pistol Pete, the trophy truck driver of Baja Racing Adventures. And what an adventure it was for everyone!
Right out of the gate there was an obvious overwhelming interest in the Discountstripper.com Bajalite car as talk of the new sponsor name and camera flashes raced through the crowd. When the Discountstripper.com graphics all over the vehicle became visible, the signage proved to serve as a spectacular display of shock and awe by building a buzz throughout the crowd. Stunned race fans and excited patrons alike, all lined up at the track and street parade to have their photos taken with the uniquely sponsored vehicle as to share in a bit of the seemingly outlandish juxtaposition.
Excitement ensued amongst this fearless group of race fans and that very feeling of living life in the fast lane with fun, friends and fashion reminded Discountstripper.com why they enjoy new and different business opportunities and events so much!
Keep an eye out for them sponsoring at the "Baja Sur 500" part of the "Score International" series in April. And be sure to check out all of the exciting photos signifying the unique female driver that was part of the driving team that toughed out this 400 mile race to the finish line.