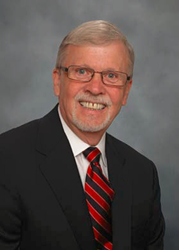 recognized practical expert with 34 years experience
Austin, Texas (PRWEB) April 07, 2015
Global sales expansion through international trade growth is helping US mid-market companies diversify and grow revenues. Executives, supervisors and future general and marketing and sales managers expand your skills of participating in this growth of global sales which normally expands 2 to 3 times as fast as domestic sales. Learn how to boost your company's sales overseas even as the US dollar continues to appreciate against other currencies.
Register now at: http://pages.national.edu/Managing-International-Trade.html to participate in this 3-day 8-4pm CT program on Wednesday to Friday April 29-May 1, 2015. The certificate program will be delivered by Craig Schurr who is Senior Vice President and Manager of FirstMerit Bank's International Banking Division. Mr. Schurr is responsible for the overall international business activities of the Bank including foreign correspondent banking, foreign exchange, trade finance and structured finance products and the sale of services to companies throughout FirstMerit Bank's banking franchise.
Mr. Schurr has over 46 years of experience in banking with 34 years focused on international. Previously Mr. Schurr worked for National City Bank, Bank One, Mellon Bank, and Equibank where he held senior management positions in Audit, Treasury Management and International Banking.
Mr. Schurr is a Board member of the Bankers Association for Finance and Trade (now known as BAFT) and also co-chair of the association's North American Council and a member of its Education and Membership Committees. He is also a member of the Northern Ohio District Export Council (NODEC), and an Adjunct Professor of International Business at Thunderbird the School for Global Management, a volunteer for the Financial Services Volunteer Corp, an instructor of the International Credit and Risk Management online course for FCIB (An Association of Executives in Finance, Credit and International Business) and a frequent speaker at regional and national trade association conferences.
Over his career Mr. Schurr has assisted hundreds of companies throughout the United States with their global business whether it is improving payment experience for global sales through effective deployment of trade tools, enhancing performance of global sourcing operations through effective management of the financial supply chain or efficient treasury management and hedging of foreign cash operations.
The workshop will focus on the following topics: differences in doing business between countries, preparing a risk mitigation plan for international trade, export organizational structure and operational process, foreign exchange and global payments transactions, domestic and global transportation of goods, responsibilities of freight forwarders and custom house brokers, what to do if goods in international transit are lost or damaged, pricing global transactions, documentary trade practices, accounts receivable – payment methods – sales terms, financing component of exporting, and short and medium term finance.
A related workshop that may also be of interest include "Supply Chain Management Simulation" which is a "live" interactive workshop simulation that is a 3-day program delivered online only. Go to http://pages.national.edu/supply-chain-management.html
About the Roueche Graduate Center at National American University
The Roueche Graduate Center at National American University in Austin, Texas offers a range of specializations in graduate business programs, various Executive Education programs for innovation and high-growth industries, and a Doctorate of Education in Community College Leadership.