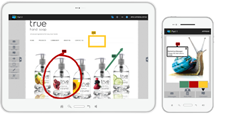 "We're excited to showcase inMotion and how workflow automation improves on traditional project management technologies."
Research Triangle Park, NC (PRWEB) March 30, 2015
inMotionNow is exhibiting at the MarTech Conference, taking place March 31st through April 1st in San Francisco. MarTech is the largest vendor-agnostic forum for understanding the breadth of marketing technologies and how organizations can effectively integrate them into their marketing strategy and operations.
inMotionNow's flagship product, the inMotion Workflow Automation Application, gives marketing teams an all-in-one solution for getting advertising and promotional projects from kick-off to final approval, so marketers can bring more of their strategies to life. By automating administrative processes like submitting project briefs, managing tasks and deadlines, and getting feedback and approval on marketing content, the SaaS application lets marketers focus on activities that generate more revenue for their organizations.
"We're excited to showcase inMotion and how workflow automation improves on traditional project management technologies, particularly for teams in marketing and communications who are tasked with creating a large volume of high quality content," said Rob Munz, Chief Product Officer of inMotionNow. "This event provides a great opportunity for us to connect with marketing technologists who are passionate about discovering and deploying solutions to fit the unique operational needs of marketing teams."
inMotionNow representatives will be on site providing live demonstrations of inMotion's combined request management, project management, and online proofing solutions, plus integrations with popular digital asset management (DAM) solutions. Attendees will be able to try the inMotion Review Apps for iOS and Android devices as well as get a sneak peek at coming enhancements to inMotion's productivity reporting capabilities.
About inMotionNow
inMotionNow solves project request, project management, content review, and reporting challenges for marketing and creative teams with its workflow automation application called inMotion. With inMotion, teams can automate administrative tasks that typically distract content creators from getting their content to market faster. inMotion gives marketing and creative teams what they need to ease the launch of new projects, solve visibility and accountability issues during project execution, surface actionable insights, and end the chase for approvals.