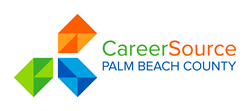 West Palm Beach, Florida (PRWEB) March 27, 2015
CareerSource Palm Beach County stated today that the unemployment rate for Palm Beach County in February 2015 is 5 percent – outpacing both the state and the nation -- and down 1.3 percentage points from the February 2014 rate of 6.3 percent. Additionally, the county's unemployment rate is .5 percentage points lower than the state's 5.5 percent unemployment rate and .8 percentage points lower than the national rate of 5.8 percent (all numbers not seasonally adjusted) according to CareerSource Palm Beach County and the Florida Department of Economic Opportunity.
"Regional unemployment often rises after the holiday season ends and this is the case in January and February. Still, the job market is surpassing prerecession levels. There are more than 20,000 additional people employed in February 2015 compared to February 2014, and there are nearly 23,000 job openings in the county," said Steve Craig, president and chief executive officer of CareerSource Palm Beach County, the nonprofit organization chartered by the state to lead workforce development in Palm Beach County.
Palm Beach County also was one of the top five Florida metro areas for job growth over the year.
Mr. Craig noted some positive indicators pointing to a more vibrant state and regional economic outlook:

Sales tax revenues, home construction, home prices and record tourism levels are helping Florida and Palm Beach County beat the national average in employment.
Personal income in Florida is growing faster than the national average according to the U.S. Bureau of Economic Analysis. Total income in Florida rose an estimated 4.6 percent in 2014 compared to 2013, and nationally income rose 3.9 percent for the same time period.
Consumer confidence among Floridians hit a post-recession high of 94.7 percent in February 2015 -- the highest level since June 2006 -- and continuing a 7-month stretch of increases, according to the University of Florida's latest monthly survey.
Palm Beach County job openings increased 17.2 percent in February 2015 to 22,841 jobs vs. 19,482 jobs in February 2014.
The county's unemployment rate remains less than half of what it was at the peak of the Great Recession in summer 2010 – a decrease of 7 percentage points from the 12 percent peak rate.
Job growth by industry sector: Palm Beach County gained 20,400 jobs over the year with employment growth in the following industry sectors: professional/business services (+7,300 jobs); trade/transportation/utilities (+3,000 jobs); education/health services (+2,700 jobs); other services (+1,500 jobs); construction (+2,100 jobs); leisure/hospitality (+1,700 jobs); financial activities (+1,200 jobs); government (+900) and manufacturing (+300 jobs).
State and county employment statistics for January 2015 were released on March 17, 2015. At the beginning of each year, there is a lag in reporting January and February data as the government re-calibrates historical data factoring in new population inputs and other revisions to economic data which leads to changes in the original statistics. State and regional employment statistics for March 2015 will be released on April 17, 2015.
CareerSource Palm Beach County assisted more than 28,000 residents in finding employment in program year 2013-2014, with salaries from these jobs creating an annual average of nearly $560 million in economic impact. An individual who receives employment and training assistance through CareerSource Palm Beach County or any of the 24 CareerSource organizations in Florida and finds a job within 180 days is reported as a job placement.
Services for employers: CareerSource Palm Beach County provides a comprehensive package of services to help businesses compete in today's challenging marketplace. CareerSource absorbs the cost of most of these services including recruitment, assessments and referrals of qualified job candidates; space and staff assistance for screening/interviewing candidates; and grants for training new or existing employees.
Services for career seekers: On average, about 11,000 visitors each month receive help from specialized services at two Career Centers. The centers offer classes and facilities for job search, career development and consulting; and grants for job skills training – all at no cost for career seekers. Schedules of workshops and employers that are interviewing are posted on the CareerSource Palm Beach County website at http://www.careersourcepbc.com.
More information on programs and services is available at:
-- Central Career Center-3400 Belvedere Road, West Palm Beach, FL 33406; (561) 340-1060
-- West Career Center-1085 S. Main Street, Belle Glade, FL 33430; (561) 829-2040
Note to editors: You are invited to send a reporter/photographer/video crew to interview a CareerSource Palm Beach County spokesperson on local employment and economic trends, and/or career seekers at our Central Career Center in West Palm Beach. Please call 561.340.1060 ext. 2202 for scheduling.