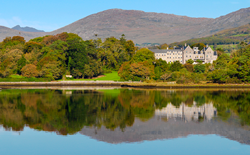 KENMARE, CO. KERRY, IRELAND, MARCH 2015 (PRWEB) March 30, 2015
There are many ways to celebrate the anniversary of a great writer's birthday. In Ireland, 2015 will go down as the Year of the Poet with a year-long program of cultural and artistic events planned to commemorate Yeats' works.
Yeats, who is considered to be one of the greatest poets of the 20th century, was the first Irish man to win a Nobel Prize for Literature which he was awarded in 1923. Though Yeats was born in Dublin, he spent much of his childhood and formative adult years in the western corner of the Emerald Isle.
The internationally acclaimed Park Hotel Kenmare on the Ring of Kerry will welcome Damien Brennan, a noted Irish historian and former executive with Failte Ireland, the Irish Tourism Authority, to discuss the life and works of William Butler Yeats, May 22-24, 2015.
Renowned for providing all its guests with a vacation that fits their interests and personal sense of fun, Park Hotel Kenmare is offering Yeats enthusiasts an opportunity to understand what inspired him and to share that experience while enjoying legendary service, luxurious accommodations and superb cuisine. The weekend will commence with an introductory dinner on May 22nd, followed by a talk on the life and times of the poet. On Saturday, guests will embark on an invigorating walk on The Kerry Way before returning to Kenmare for an afternoon of leisure. Guests can relax by the indoor lap pool, be pampered body, mind and spirit at Samas Spa by well-trained, friendly staff, or sip cocktails in the Bar and savor Irish and international delicacies in the award-winning restaurant. Dinner on Saturday night will be imbued with poetry readings from Yeats and discussions on his life contributions to Irish society.
This two-night experience includes Superior accommodations, breakfast and dinner each day. Rates are from €445 per person and are limited to 20 participants.
For more information and reservations visit the hotel's website, http://www.parkkenmare.com or call the Park Hotel Kenmare at +353-64-66-41200 or contact your travel professional.
ABOUT PARK HOTEL KENMARE
Built in 1897, as a hotel, the Park Hotel Kenmare is now one of Ireland's foremost privately owned luxury hotels. Inspired by the history and traditions of the Heritage Town of Kenmare, Park Hotel Kenmare is a secluded, sophisticated and romantic 12-acre retreat, placing the highest priority on pampering and personalized attentiveness to make sure each visitor is assured a matchless level of personal attention. Guests unwind in nine suites and 37 deluxe guest rooms appointed with elegant furnishings and amenities. All rooms offer views of the landscaped gardens, woods or sea. The legendary restaurant continues to receive accolades as one of the best restaurants in Co. Kerry. SÁMAS (Sa:vas), the sumptuous luxury spa features a fusion of Eastern and Western holistic philosophies with uniquely Irish hospitality and serene, lush surroundings. A broad range of exceptional recreational activities nearby including golf, tennis, horseback riding, biking, hiking, walking and boating are some of the options available to the discerning traveler. Park Hotel Kenmare is recognized as a five-star property and is a member of Ireland's Blue Book and Relais & Chateaux.