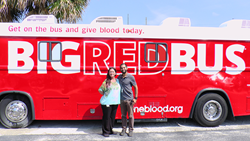 Fort Lauderdale, FL (PRWEB) March 27, 2015
OneBlood paid a visit to Uniweld Product's Headquarters in Fort Lauderdale, Florida on March 19, 2015 to receive blood donations from willing and able employees. Uniweld hosts company blood drives at their headquarters twice each year, providing employees with the opportunity to give to those in need and perhaps save a life.
OneBlood Donation Services is a well-known and respected Florida blood donation service. According toOneBlood.org, "on January 27, 2012 three of Florida's independent, not-for-profit blood centers, Community Blood Centers of Florida, Inc. (CBCF), Florida's Blood Centers, Inc. (FBC) and Florida Blood Services, Inc. (FBS) came together" and after more than one year of extensive collaboration and planning, OneBlood, Inc. was established. OneBlood's service area includes Tampa Bay area, South and Southeast Florida, the Orlando metro area and surrounding Central Florida counties, parts of Southwest Florida, Pensacola and Tallahassee and some parts of Southern Georgia and Alabama. You can also view OneBlood's service area map here.
OneBlood urges donors to learn more about the importance of blood type specific donations. OneBlood's website has detailed information on blood types to better educate donors on a variety of topics from what percentage of the population carries a blood type, what donation works best, what blood type they can receive, patients who will receive their red cells, who can receive their platelets, who can receive their plasma, and much more. By having a donor be informed of what options are available to them, they could in turn donate not only blood, but perhaps platelets or plasma which also in demand.
OneBlood's Big Red Bus rolled into Uniweld's facility at 9:00 am on Thursday morning and prepared for donations. As an incentive to donate, OneBlood also likes to reward donors with tokens of appreciation and on this day, Uniweld employees were rewarded with free t-shirts and comedy show tickets. Uniweld employees were proud to make OneBlood donations, several of which were repeat donors.