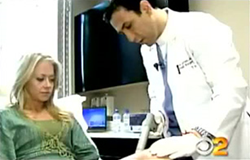 Los Angeles, CA (PRWEB) March 30, 2015
On March 11, 2015, Elle Magazine, in an article titled "6 New Ways to Blast Away Fat," details six new treatment options for dealing with stubborn, unwanted fat. Two of these treatments require injections and one is a topical product. The other three technologies use devices to deliver ultrasound energy (UltraShape and Liposonix) or freezing cold (CoolSculpting) to kill fat cells. (see: goo.gl/NmaB4q)
"There are so many options now available to us to permanently remove unwanted fat," says Dr. Simon Ourian, Medical Director of Epione Beverly Hills. "We offer UltraShape and CoolSculpting at our Beverly Hills clinic."
According to the Elle Magazine report, the FDA is on the verge of approving the injectable ATX-101 for the treatment of submental fat, the pockets of fat that cause double chins. Clinical studies, however, indicate that more than 20% of patients experience post-procedure pain, swelling, and bruising. Lipo-202 is another injectable that is being tested to treat abdominal fat by diminishing triglycerides. CoolSculpting uses a process called cryolipolysis to freeze and destroy fat cells. Liposonix and UltraShape use different forms of ultrasound energy to kill fat cells.
"For now, neither ATX-101 nor Lipo-202 has FDA clearance; we'll have to wait and see if they are safe and effective," says Dr. Ourian. "In the meantime, both UltraShape and CoolSculpting offer both safety and efficacy."
Dr. Ourian has been a pioneer in laser technology and non-invasive aesthetic procedures including UltraShape, VelaShape, Restylane, Juvéderm, Radiesse, Sculptra, and CoolSculpting. These treatments are used for the correction or reversal of a variety of conditions such as acne, acne scars, skin discoloration, wrinkles, unwanted fat, stretch marks, varicose veins, cellulite, and others. More information about plastic surgery can be found on Epione's website.